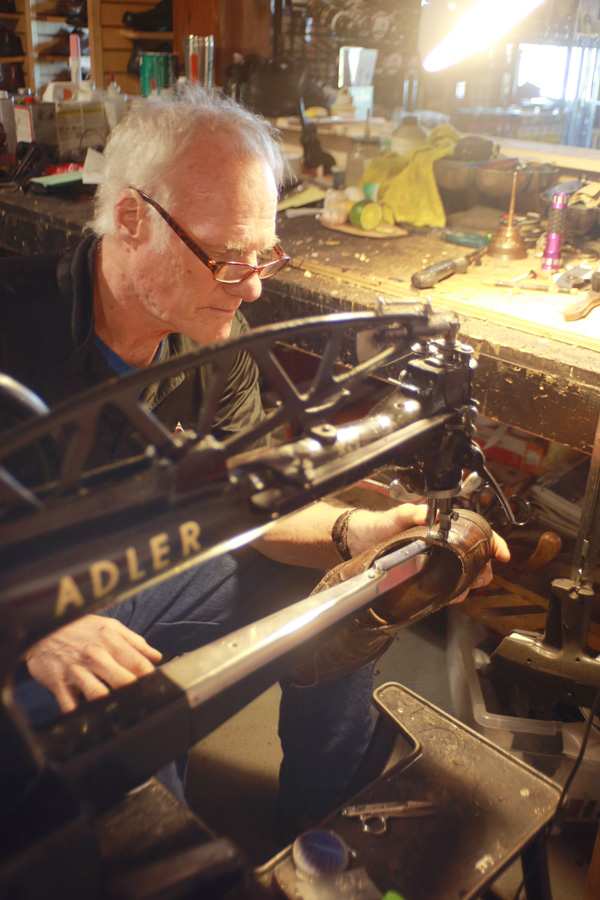 By Andrea Arnold
---
Cobbler Ryan Vale has set up his small shoe repair shop in the corner of the building that houses the McBride Hotel and is open for business.
"I am at an age where I am looking for a place to slow down," he said. "A good place to retire." He heard about McBride from a friend, and at the time only knew that it was close to Mount Robson and that it was a small community.
"I thought it was a rural area with people who may appreciate the services I offer," he said. "Traditional, face-to-face services."
"I was astounded as I arrived, to see one cattle ranch after another," he said. "The valley is right for agriculture."
This was a delight for him to see, as farmers and ranchers wear out their boots, and Vale can help them get more mileage out of their footwear.
He moved from the Edmonton area where he operated shops in malls for several years. A former teacher, Vale had the opportunity to take over an existing cobbler business 12 years ago and learn the trade.
"I didn't realize at the time how many different things a cobbler does," Vale said.
He had a lot to learn from watching and working with others. In Canada, there is no official schooling available for the profession, so the skills have to be passed on from others.
Vale also has a variety of items for sale in the shop, including used footwear available and a line-up of shoe care products. He carries a few brands of new products ranging from therapeutic slippers to boots and sandals. His walls also display prefabricated orthotics, foot halters or heel grips to make your feet as comfortable as possible.
"Footwear is something that you need to tend to no matter who you are or where you are," Vale said. "Everyone has a foot issue or a shoe issue that can be dealt with at a reasonable cost."
Vale is able to perform custom work on all kinds of footwear. Since his arrival in the valley, most of his clients have been work boot or cowboy boot repairs. His abilities are not limited to those however. He can repair/replace soles on just about anything.
"Boots usually come with polyurethane soles," he said. "These begin to crack and crumble after a year and a half or so." The soles Vale uses to replace the damaged ones are made of high abrasion rubber. These wear down slowly, and do not crack or crumble.
He is a powerwalker himself, and has resoled and altered his walking shoes many times.
Stretching shoes, mostly women's, is another service he offers. He commented that especially with footwear purchased online, women specifically find shoes fitting tight. He can custom stretch, creating the perfect fit.
His skills are not solely limited to shoes. He can also reinforce eyelets on hockey skates, or recommend insoles specifically made for skates.
Vale is enjoying the slower pace of life in the Valley. He enjoys the work he is doing as it is relaxing and hands-on. As long as he has the supplies on-hand, turn-around is usually one day for each pair of footwear, he says. Anyone with a shoe issue is welcome to stop by and chat with Vale regarding their shoes. The shop is open seven days a week: 6am-9pm Monday-Friday, 9-5 Saturday and Sunday 12-5.