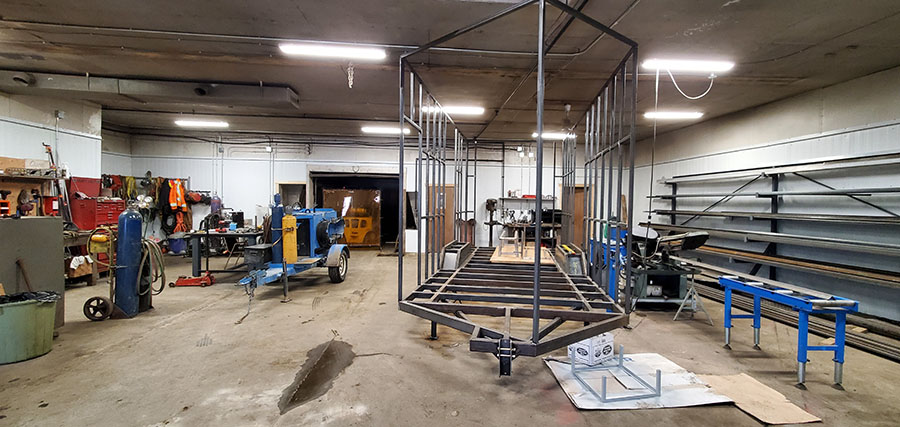 By Andrea Arnold
Jared Williamson, foreman of Ayr Welding shop in McBride on the corner of 2nd Ave and Queen Street, is looking forward to reaching the shop's one year anniversary. Although the shop has been open for a year, between being away for work, having many projects and establishing the shop, Williamson didn't want extra exposure.
Williamson and his family moved to McBride in the summer of 2020. They travelled all over the province looking for a community to settle down in. When they arrived in McBride, they felt it was the perfect place to raise their outdoors-loving family.
Williamson, a certified structural welder, B-pressure welder and Red Seal Millwright has been setting up his shop while working on jobs away from home over the past year. His role as a fitter/fabricator means that he designs and builds metal structures from the ground up. His main focus is on industrial application along with some commercial.
"I have been travelling for work, but have been surprised at the amount of local work that has been available," said Williamson. "Since coming to McBride I have had the opportunity to work in many new industries that I have not previously experienced."
In the last year and a half, Williamson has helped in the areas of agriculture, concrete and aggregate, hydro electric, robotics, forestry and public works water and wastewater systems.
Once Williamson and his family settled into life in McBride, he moved his fabrication equipment into the shop in town. A year later, he appreciates that people are happy to bring him work, or to pick his brain as they are working on their own projects.
"I like what I do," said Williamson. "I like the mixture and diversity of the jobs that I get. Each job uses different welding processes and materials. As well, each job brings me in contact with a variety of people. It is nice to meet and work with many of the business owners around the community."
Williamson feels he has added another way to keep money in the valley by offering a service that was not readily available before. He has added an employment opportunity for one individual, an apprentice welder, and may add another employee as the business grows. He would like to offer solutions for all the requests that he receives, but to do so, he needs to add more specialized machines to his inventory—a move he intends to make as he expands.