By Andrea Arnold
---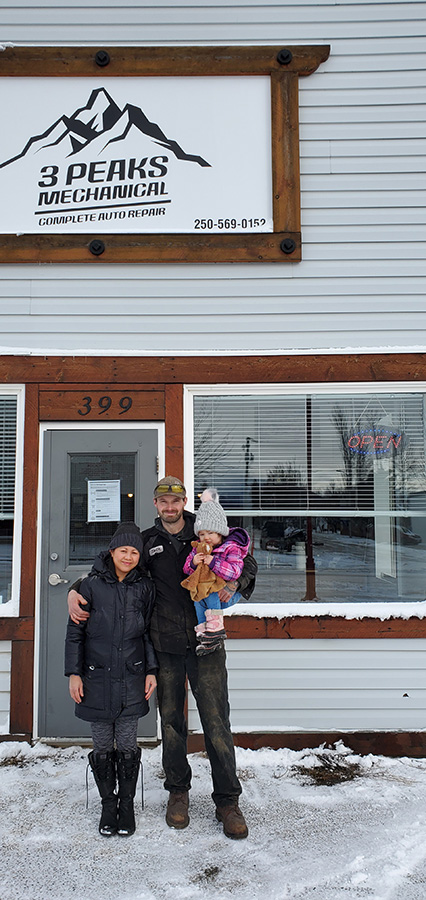 The sounds of air wrenches and compressors once again can be heard from the automotive shop on the corner of 4th avenue and Main street in McBride.
3 Peaks Mechanical opened for business on Tuesday March 23, 2021, and new owner Zach Haugen has been pleased with the business so far.

Haugen is no stranger to the building or the community. He spent time working in the same spot under the Country Road's banner in 2015. For the past two years he has been managing a shop in Whitecourt Alberta, while partner Mae Demonteverde held down their home in McBride. Haugen decided it was time to find a way to be present in the valley and has reopened the doors to offer a full-service mechanical shop.

3 Peaks offers all the services one expects from an auto shop. Haugen is in the process of completing out-of-province inspection certification, and will be offering that option within a few months. They offer tire sales and repairs as well.

Haugen has a real heart for the community and wants to support where he can. As McBride has an aging demographic, Haugen has decided to offer a seniors discount on services. Also, as the business picks up and it becomes viable, he hopes to support youth sports through sponsorship or other means.

Demonteverde is overseeing the front desk reception side of the business, along with her pint-sized assistant, two-and-half-year-old Myla.

Currently, the shop is open for business 8-5 Monday-Friday, and most Saturdays. The pair hopes to be able to get out hiking and enjoy the mountains that inspired the shop name.

"The 3 peaks refer to the three more popular mountains, Lucille, Belle and Renshaw," said Haugen.

Haugen says he's always loved mechanics.

"I have had a passion for working on cars," he said.

He says he has experience working on everything from lawn mowers to tractors, and loves the variety the career provides. His special interest is old cars, VW's specifically.

At this time, Haugen is running as a solo mechanic in the shop, but will look into hiring as business picks up.

"I hope to get the shop up to the standard it was," said Haugen. "I want to serve the community."