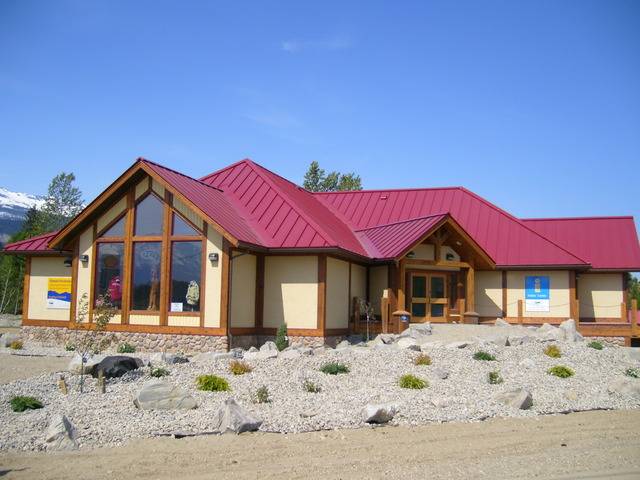 By Laura Keil
---
With non-essential travel still being discouraged, local Visitor Centres have delayed their openings, but that may change beginning in June.
Dannielle Alan manages the McBride Visitor Centre and says she's been fielding calls from would-be travellers who wish to visit McBride.
She's been relaying the Province's edict to limit non-essential travel, but once that edict lifts, she says they will have precautions in place. The visitor centre will re-open once they install a plexi-glass divider at the information desk, she says, but they are making other changes as well. The visitor centre visits aren't a quick exchange like at a till.
"it's lengthy personal interaction. So that's why I want to have that physical barrier there."
They have also removed the brochures from the main part of the station
"If somebody asks for something, we'll give it to them. But we're just trying to limit the points of contact."
She notes the Whistlestop Gallery (across the hall) is already open but they are limiting the number of people in the gallery and making sure they stay 6ft apart. They also have a sanitizing station set up near the entry.
Alan says when the visitor centre opens staff will wear masks and she encourages visitors to wear masks as well and to leave their contact information in order to conduct contact tracing should someone test positive.
"We're encouraging and asking everybody who comes into the station to put their name down, their contact information," she said. "We're not using it for anything other than if there's a positive topic case identified amongst staff or guests at the station, we can contact everyone to let them know or at least be able to give that list to the health authorities."
She says they are hoping to open the visitor centre June 1st. This is the same day Valemount hopes to open its Visitor Centre as well. Village of Valemount CAO Wayne Robinson said they are also waiting for plexi-glass barriers to arrive before opening.
"Of course there has been a backlog in the order because everyone is requiring them to open in phase 2 of the province's reopening of the economy," Robinson said.
The Village also still needs to conduct interviews for information counsellors.
"We have been on a holding pattern for some time because everything has changed regularly and we could not confirm when we would get the 'green light' to open," Robinson said.
Robinson said they will only hire one additional staff member to work in the VIC this season; last year they hired five. He said they are not expecting many visitors.
"By all indications there will be no international tourism this year," he said.
VIC will operate only during Village Office hours this year and will not be open weekends or holidays and the public washrooms will remain closed.
"The idea behind fewer hours and less staff is to save on operating costs because the forecast for this year is limited tourism traffic. Generally a lot of the VIC operating costs are covered by merchandise sales – we are unlikely to reach our forecasted sales target this year," Robinson said.
The Goat reached out to the Mt. Robson Visitor Centre operators but did not hear back by presstime.
BC Parks says the Mount Robson Visitor Centre will also remain closed until further notice. There are a few rest areas throughout the corridor with bathrooms that the public can use, a government spokesperson said – facilities maintained by BC Parks and MOTI. We reached out to the Mt. Robson Visitor Centre operator, but did not hear back by presstime.
The Mt. Robson Cafe manager Jill Philpott told the Goat they are looking at opening June 15th.
"That could change if non-essential travel is being somewhat promoted. Key factors being (the) parks and campground are open," she said.
The Mt. Robson Gift Shop opened May 15th and current hours are 9:00am-4:00pm. Store owner Annie Baker said they are taking one day at a time.
"It will be a different summer for us for sure – a large percentage of our business is the overseas market. Looking forward to seeing more Canadians but I have to really think differently about what to bring in!"