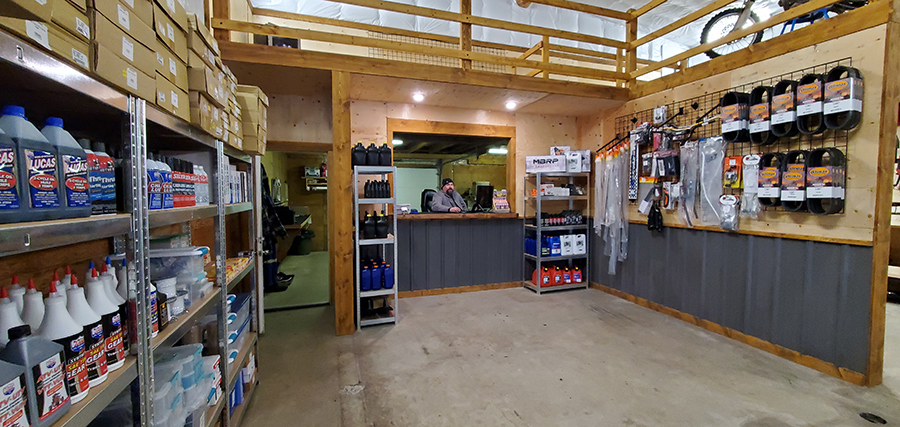 By Andrea Arnold
Elliott Giroux may be a relative newcomer to the world of brick and mortar business ownership, but he is no stranger to the mechanical aspect of his new venture, High Country Rental & Repair.
"I started taking things apart and putting them back together when I was about eight," said Giroux. "Actually, I don't think I put things back together until I was 15."
Giroux started calling the Robson Valley home in 2012, but until recently worked away from home much of the time in the oil and gas industry.
"I wanted to find a way to be close to home and generate income while providing a service to the community," he said. "When Shawn closed his shop in town, the timing to open this shop was good."
In time for his grand opening on Friday, January 21, 2022, Giroux brought in supplies that snowmobile enthusiasts are often looking for such as OEM (Original Equipment Manufacturer) oil, injection oil, throttle cables, belts, A arms and other sled specific items. He will bring in requested items not in stock. Giroux hopes to get an online store up and running in the near future. His goal is to keep his prices reasonable allowing everyone access.
In addition to the repair supply aspect, he is offering small engine repair. Groux got his start working on ATVs and dirt bikes and working on small engines is in his comfort zone. He is familiar with many different types of powersports equipment and small engines, but admits to having a learning curve ahead of him as he begins working on more of a variety of winter sports machines than he has in the past. He has diagnostic equipment to help him determine what repairs are needed allowing him to work quickly to get the machines back out as soon as possible.
High Country Rental & Repair is located about 12 km northwest of McBride. Due to its location, Giroux understands that getting items out to the shop for repair may not be possible for everyone, but that service is something most people eventually require.
"Not everyone can repair or replace items when they break," he said. As part of his business plan to provide a service to the community, he wants to make repairs attainable to everyone. He is offering to pick up and drop off smaller items free of charge when he runs into town, but for larger or special callouts, he will have a fee.
After his first day of service, Giroux is hopeful that the business will be a success.
"The phone was ringing all day, and people were here asking questions, buying and ordering items," he said. "It was a bit overwhelming but at the same time, it was really good."
Giroux hopes to expand his business to include an option for onsite accommodations, and construction equipment rentals. He also hopes to invest in a snow cat to use for snow machine recovery as well as recreational purposes.
"None of this would have been possible to assemble without the help of my partner Cassandra and the kids," he said. "Everyone has contributed significantly to get the shop built, inventory setup etc. It really has been a family affair and I can't take all the credit for it."
The kids have been helping keep the shop tidy, and Cassandra has been instrumental in the computer aspects of the business.
At this time, High Country Rental and Repair is open from 9am-9pm, seven days a week. He is available for after-hours requests 24-7 as well, for a fee. Once business picks up, he will look at the possibility of hiring an employee to continue to build the business while creating a better work/family balance.
"I am looking forward to getting to know people in the community better, and providing a service," said Giroux. "I hope that people are happy when they come in, and that they are happy when they leave.