by Andru McCracken
---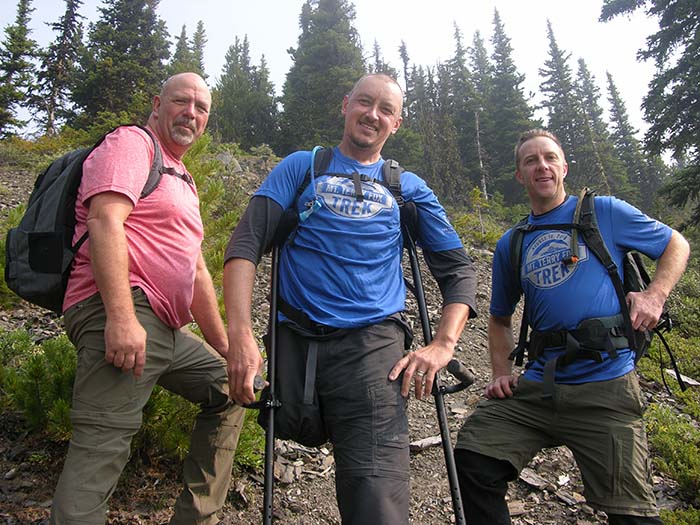 The fourth annual Mt Terry Fox Trek began shrouded in smoke, but 29 hikers committed to the challenge all the same. It's a gruelling hike at the best of times and the Terry Fox Foundation doesn't mince words about the challenge:
"This is a one day hiking adventure that embodies the indomitable spirit and determination of Terry Fox. Just as Terry experienced daily in 1980, there is no easy route."
Art Carson has been a guide for the Mount Terry Fox Trek for a number of years, and this year he was inspired by a hiker who made the trek on one leg.
A man named Mike Westerhoud and two friends from Norquay, Saskatchewan, drove to Valemount on motorcycles to make the trek. Norquay is close to the Manitoba border.
"Well we did it. 9 hours later and pretty much a sore everything, we made it off the mountain," said Westerhoud in a Facebook post, tagged #terryfoxtrek. "We got to 6352ft and it became just to loose and dangerous for me to continue. Thanks to everyone for all the amazing support, it was an epic adventure!"
Mike lost his leg to cancer but that didn't stop him from climbing the long and sketchy path.
"I was impressed by that physical performance," said Carson.
"We did at least 3000 vertical feet (that's 1000 metres) up and down," said Carson.
Mike, who uses crutches, climbed over roots, and boulders, sidehilling steep rocky sections.
Carson said Mike had lots of steam left, but the technical section made going further impossible.
"It was amazing to see Mike climb up rocks taking bigger steps up than I was," said Carson.
Carson said that this year's trek was a success, and an abundance of huckleberries made it all the better.