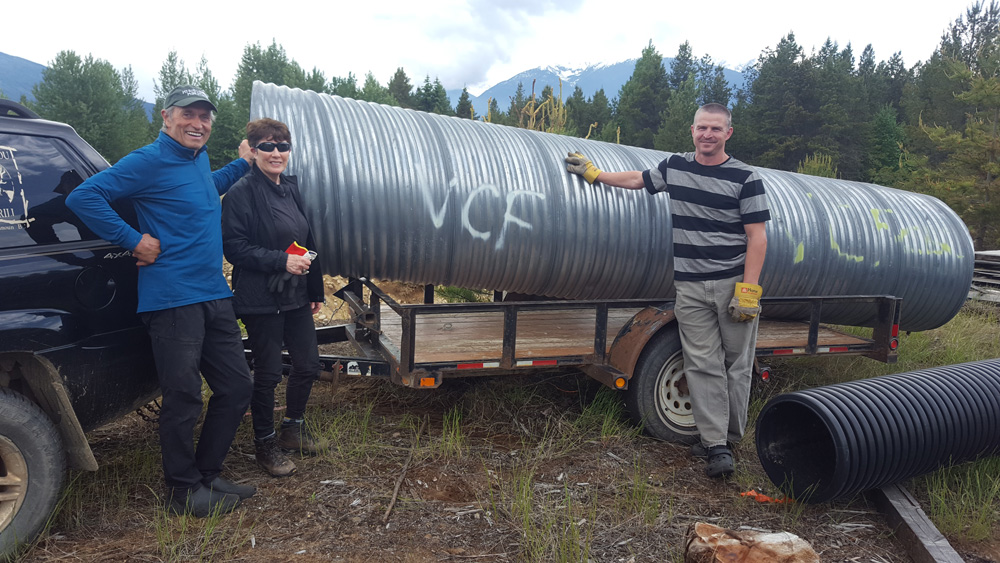 By Laura Keil
Work on the new Mount Terry Fox trail is underway, including at the new trailhead where an outhouse will be installed.
The re-routed trail was approved by Rec Sites and Trails last summer, and the new route will shorten the hike to the summit and provide some new spectacular views.
When the Yellowhead Outdoor Recreation Association (YORA) found themselves in need of a culvert to complete an outhouse at the new Terry Fox trailhead, the Valemount Community Forest offered to donate a 27m-long culvert they had in their yard at the Valemount Industrial Park.
Luckily it just fit onto the back of their trailer.
Pryor says they keep culverts around as people often need them quickly.
Once the Terry Fox trail is completed later this summer, people will be able to enjoy a picnic at the trailhead or a hike up the mountain. Marlon Jackman has already widened the road and put in culverts, making the road accessible to most vehicle types.
The new trail follows Teepee Creek, then forks off to the right up to Teepee Lakes and then left to the Summit. It joins the original Terry Fox Trail on the shoulder near the summit.
YORA member Patricia Thoni says the trail is already well ribboned and a new 30-foot wooden-plank bridge is already in place. The final trail work this summer will include grubbing, defining the trail and building cairns where there are no trees.
She said the logging block isn't cleared out yet, but there is a goat trail though it, and the traverse to the bridge (which is steep) has been grubbed out.
They hope to get a picnic table and new informational signs for the parking area, which has a spectacular view of the Premier Range.
"It'll be a nice little place where people with mobility issues can go up and get a nice view and we'll eventually have a nice sign there, a painted sign, with info about Terry," Thoni says.
Finally, they have also acquired money to move the Terry Fox Monument to the true summit, rather than a nearby ridge that was very difficult to access. This will require a helicopter.
The new trail is shorter and has less elevation gain than the original trail. From trailhead to peak and back, the old trail took hikers 10-12 hours to complete. The new trail will take less time and, like the original, does not have any technical climbing sections.