by Ruby Hogg
---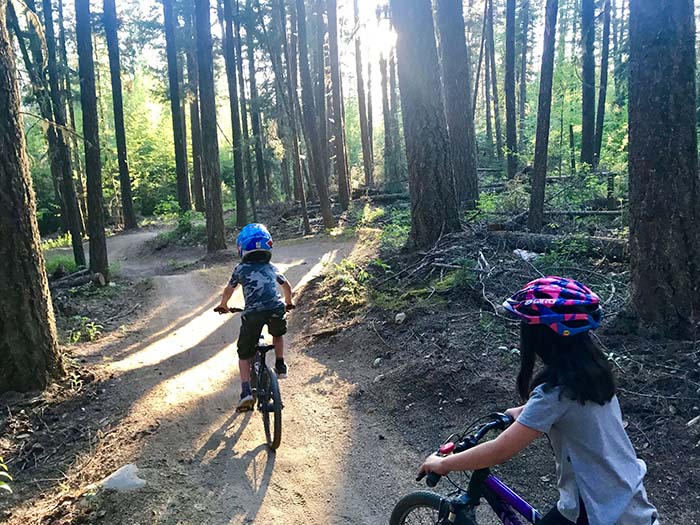 This question comes up a lot, and having a child who is just starting to ride, I totally get it. I've seen first-hand the broad spectrum of child riding that's out there, so I'm attacking this post with the sickening detail that only an overprotective parent would provide.  *I just want to start by saying that I am not affiliated with the bike park, I just love to ride and ride with my kid.*
The Basics:
Right at the staging area is a small pump track that is well-suited for tiny wheels. There are also three small hand-cut tracks and a few wooden features to play on. It's a great place to keep kids occupied while you take turns riding or to build skill. This area is suitable for both back brakes and run/strider bikes.
Cross Country:
The Marsh (green)
A 6km loop of single-track trail with minimal elevation gain. Bike and hike friendly. One small section of gravel but then it smooths out. Some slightly rooty sections that might be technical for a very beginner biker, but most kids who have riding experience should be absolutely fine. Definitely the most beginner-friendly cross country trail in the area.
Kinney Lake (blue- this is a hike that is also ride-able located in Mt. Robson Provincial park)
14 km return (there is also a great place to turn around after the 4.5 km mark so 9km return- 140m elevation gain) This ride is actually not a part of the Bike Park but is a fun local ride. It is located 40km from town and is a well-maintained foot path. The whole way in is a gradual climb with a gradual descent on the way out. This trail sees lots of foot traffic, so be weary. There are also some drop offs along the trail in sections.
Uphill:
Munday Grind (green)
We are so lucky to have this trail. After having to do vehicle retrieval at some bike parks in the North, I realized what a difference it makes to have a trail that is specifically designed for gradual climbing.
3km of climbing and roughly 200m elevation gain takes you to Bacon (a child-approved riding trail). Long switchbacks and fun turns make this trail quite enjoyable. It does pass by with the downhill trail "Bacon" within the first 1/3 so it is possible to jump off there if the climb is too much.
If you really want to go for gold, (and want to hear a lot of whining) you can do the full 7km ride up to Tinfoil Hat but if you're hoping to get more than one lap in, Bacon is a perfectly acceptable place to hop off. I've known children as young as 5 to do the climb to Bacon, but we didn't start torturing our child with it until she was 7.
Downhill:
Hand brakes and riding experience is strongly recommended for these trails.
Trapline (green)
About 4 km up 5 mile road you will find the entrance for many blue and black trails but if you look up and to your right, you will find the entrance to the beloved Trapline. This newly developed trail is a true green with no surprises. There are a couple of small features off to the side of the trail that are completely optional, but the trail itself is very clearly laid out. There is one road crossing mid-ride and then a second at the end of Trapline where you can either be picked up or (more likely) continue on to Bacon.
Bacon (blue)
3 km of downhill fun.
Bacon has a lot of berms and small jumps built onto the trail. There are a few advanced features on the trail with ride arounds but please keep watch for easiest route "green" signs. There is one advanced gap line that is fairly easy to notice and is clearly marked as a black. Right after the log ride the trail splits into two trails to be reunited and both trails shortly after but neither is more advanced than the other.
Moby Dick (blue)
Another fun trail. While there isn't much for steepness, the trail is full of advanced features (with ride arounds). The very bottom can get a little loose and sandy if it's hot but other than that, it's mint.
To sum it up: I would feel comfortable allowing my daughter to lead me down Trapline, but due to some of the features I would want to lead her down Bacon or Moby Dick the first time.
If your child is an absolute shredder as some children are, I'm sure they would do great on any of the trails but I'm trying to give parents a place to start. We have definitely been those parents at other bike parks trying to decide how "blue" that blue trail is, or whether there was something my kid was going to fly off of in the middle of the trail.
How to determine whether the trail is a good fit for your child:
Analyze elevation gain.
Take length of the trail into consideration.
How much riding experience do your littles have? Do they have hand brakes, disc brakes, are they standing up and riding? Are they comfortable with their body positioning and have good control?
Scout trails out prior if possible.
Things to Note:
Pack it in, pack it out.
Camping in the staging area is highly discouraged.
If you're leaving ruts, the trails are too wet to ride and you are doing damage to them.
Have a grand old time in this gem.
Play safe & Happy Trails