by Andru McCracken
---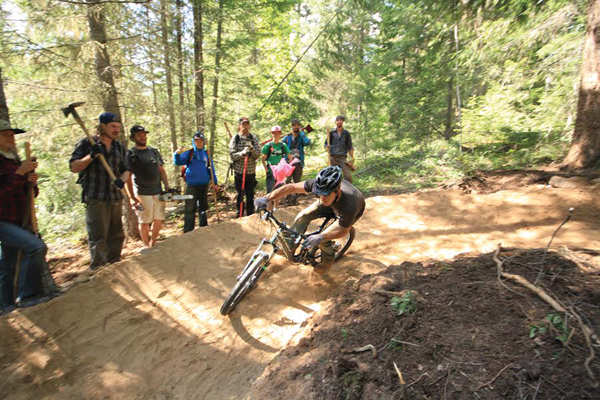 You might not be able to make it out to the volunteer nights to swing a rake and keep the trails polished, but there is now an easy way to contribute to the Valemount Bike Park on an ongoing basis.
Valemount and Area Recreation Development Association manager Curtis Pawliuk unveiled a new membership program for the bike park. For $50 per year, members can ensure the trail network is maintained to a great standard and continues to grow.
So far 30 keeners have signed up, but manager Curtis Pawliuk is hoping to get 400 members renewing on an annual basis.
"We're hoping for about 25% of the people who like our facebook page to sign up," said Pawliuk. That would mean 400 members who bring in about $20,000 per year.
Pawliuk said a great response will have huge impacts and translate into retaining bike park maintenance staff and help them leverage funding to build more trails.
Membership dollars have already been used to enhance the park, a new exit on Bacon slows bike traffic and gives them a better view of traffic.
Curtis said it provides an intangible benefit.
"It's a good feeling knowing you support the system," said Pawliuk.
The enthusiasm for the park was nicely conveyed by a user who spent last weekend at the park.
"I want to send a shout out to everyone involved in making Valemount trails such a gem. I've ridden most of BC and Alberta's gems," said Gauthier. "There truly is something special about Valemount. The trails are polished with love and the locals are so involved! You can't help but feel your soul is being touched when you shred the trails. Put Valemount as a #1 on your bucket list for biking. You won't regret it. Can't wait to come back."