by Laura Keil
---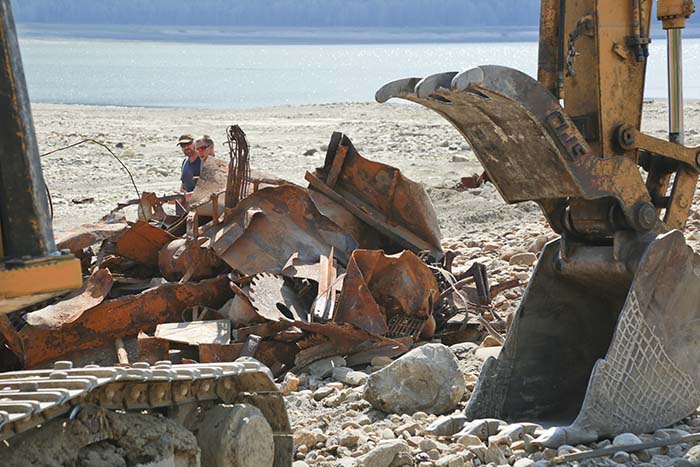 One of Valemount's most scenic and polluted landscapes got a spring clean recently, although there is still much to be done to make the 12km mark at Kinbasket hazard-free.
Leona Mintz and Ryan Smith were at the site removing woody debris from the lakeshore as contractors for BC Hydro, but their job does not include removing other debris, in this case a long shoreline full of jagged, rusty scrap metal.
The site, known as 12km, is the site of an old mill. Mintz thinks much of the garbage was burned and then pushed over the bank, since there are several "pits."
"You pull on one piece and out comes another – you don't know how deep it goes."
The area is popular as a rec site, but as Kinbasket reservoir fills up over the summer much of the metal is covered by water and could potentially injure a swimmer or wader.
"If you jump in the water, you could lose a foot," Mintz said. "It's dangerous."
Mintz and Smith decided to do something about it, even if it meant doing it on their own time.
After work, Mintz and Smith recruited Jason Alexander to volunteer his time and dump truck and got permission from David Craig to use his heavy machinery to load the truck. Industrial chains, blades and metal sheeting – all rusty to the point of disintegrating – were collected off the beach and placed in the bin.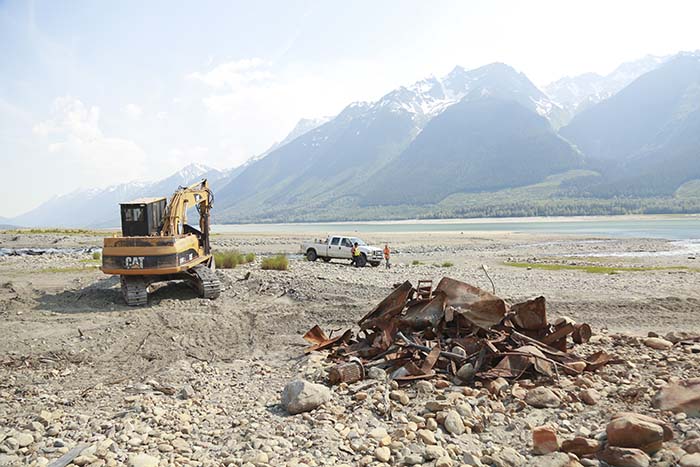 Because so much of the metal is buried, Mintz said it will take a lot more work to fully clean up the beach.
She hopes their effort decreased the hazard, even though there is more waste to remove.
Read our archive story about the history of the mill site here: