By Andru McCracken
---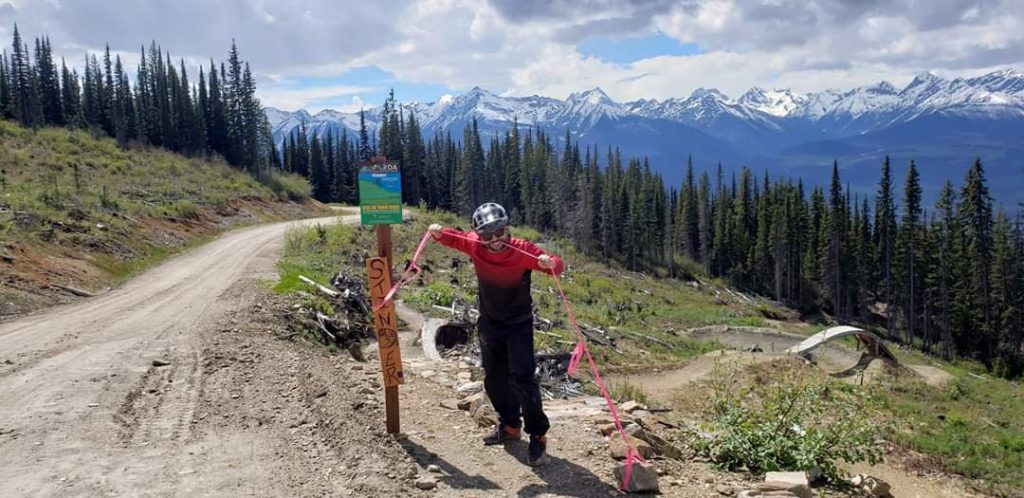 While the Valemount Bike Park trails are open top to bottom and it's open to locals and visitors alike, the access road is getting fresh gravel and a new Swift Creek Expansion is underway, but it's not business as usual.
Curtis Pawliuk, the general manager for the Valemount and Area Recreation Development Association is asking riders to ride with immediate family and housemates in small groups, to practice low risk riding and to maintain 2 metres distance between themselves and other trail users.
"We are proud of our trails and have always encouraged their use by everyone and anyone, but all we can do now is try to follow the latest guidelines listed by our Provincial Government," said Pawliuk.
Pawliuk said that if the trails are closed, it will be by Recreation Sites and Trails BC, a wing of the provincial ministry of forests that oversees trails.
Easy access to the top
5 Mile Road used by cyclists, hikers and sometimes sightseers is currently getting a massive upgrade.
The road is currently being gravelled with about 250 loads of gravel taken from kilometer three and, according to many, is in the best shape ever. Pawliuk asks all users who use the road to drive slow and use 4×4 to keep it smooth for the long term.
Road improvements were the initiative of the Yellowhead Outdoor Recreation Area who undertook to gravel the road with Resort Municipality Initiative funding.
Recent changes including grade reduction allow users to get to the top in just about any kind of vehicle which could make for an awesome Sunday drive.
Don't be a sheep
When you are riding a new trail called 'the Craig,' named in memory of Everett Craig, Pawliuk would like riders to take their own line.
"You can help work in the new tread by expanding the ride line and riding outside of the typical track. aka… don't be a sheep," said Pawliuk.
New trails for new riders
Some new trails are currently under construction, Robson Design Build (run by Andreas Thoni) is crafting the new Swift Creek Expansion which features easy trail riding for new riders.
Shuttle scuttle?
Aaron Ermantrout the owner and operator of Peak Shuttles said it's unclear if they'll be able to run this year. The usual authorities point him to the Provincial Health Officer which isn't clear.
"For sure there will only be one van this year if somehow I can operate," he said. "If we are restricted on capacity, operating won't be sustainable."