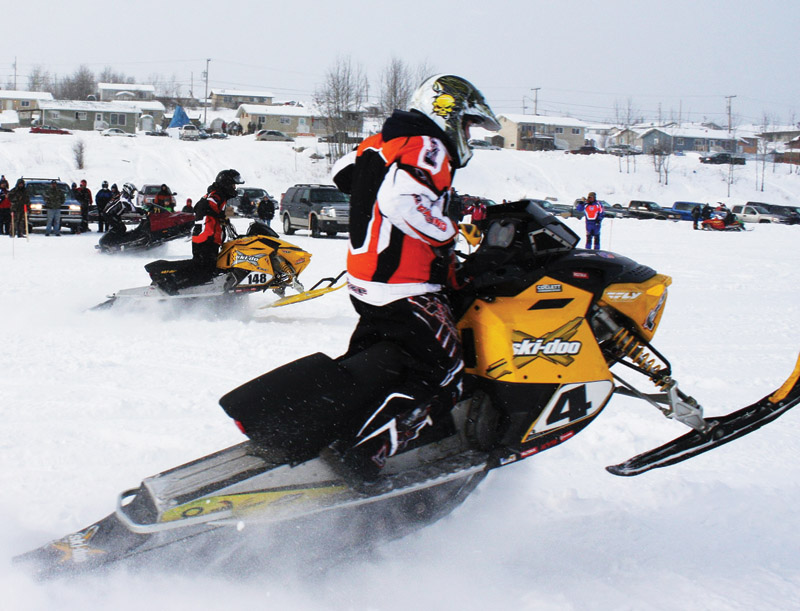 Pro riders will perform flips and tricks
By Michael Piasetzki
In past years, Valemount has hosted an annual sled celebration in March, a weekend devoted to snowmobiling.
However, in 2020, Sled Fest had to be canceled due to the Covid-19 global pandemic. It didn't take place last year either.
Two years later though, as Canadians seem to be settling into a new phase of Covid-19 in which governments are telling us we will have to learn to live with the pandemic, a new—albeit smaller—version of Sled Fest is scheduled to take place in the village on April 9.
"I don't think we should call it Sled Fest anymore, though," said Curtis Pawliuk, general manager of Valemount Area Recreation Development Association. "Covid killed Sled Fest in 2020. But we still wanted to hold a main event for the community this year. It was originally going to be a weekend-long snowmobile celebration but now it's just going to be an evening for locals and visitors to watch one of the best in the world do some freestyle tricks in downtown Valemount. It'll be more of a downtown freestyle event."
The person Pawliuk is referring to is Brett Turcotte, a professional snowmobile racer who has also competed in the Winter X Games in freestyle, where he has enjoyed tremendous success, winning three gold, three silver and a bronze medal.
Snowmobile freestyle events at the Winter X Games feature riders being judged for doing flips and tricks on their sleds. Some very dangerous maneuvers, yet extremely entertaining to watch.
Turcotte will be joined by teammate Brandon Cormier, also a snowmobile freestyle gold medalist at the Winter X Games. Both sledders will be doing some of those tricks during two approx. 15-minute shows on the evening of April 9 on Fifth Avenue. Showtimes have not yet been determined.
"If we're having fun, the shows might last a little longer," said Turcotte, a Kamloops resident who admitted to being excited to be performing in Valemount where he has several friends and has visited before.
"There will be a half hour intermission in between shows."
What will make the two shows even more interesting is that the snowmobiles Turcotte and Cormier will be doing tricks and flips on will be on wheels, thus eliminating the need for snow.
"We cut material away from a snowmobile ski and install wheels instead of carbides," said Turcotte. "Along with the modifications, we also add a radiator to the back to keep the sleds cool when there is no snow.
This allows us to ride all year round. No kind of weather can stop the show from going on except gale force winds."
Turcotte admitted this kind of work is not for everyone. There is definitely an element of danger involved.
"But that's why Brandon and I spend so much time perfecting our tricks," he added.
As of now, Pawliuk said he remains uncertain whether there will be other events planned for the evening besides Turcotte and Cormier performing tricks on their snowmobiles. He also remains uncertain whether an event like this—or another form of Sled Fest—will take place next year.
"All I know at this point is this is going to be a great event," said Pawliuk. "It's going to be something the community has never seen before and most don't even get the opportunity to see. The reason we want to hold it downtown is that everyone can participate by walking over to watch it as opposed to holding an event in one of our snowmobile areas where the local community can't participate. We encourage everyone to come down and watch. They'll be happy they did."