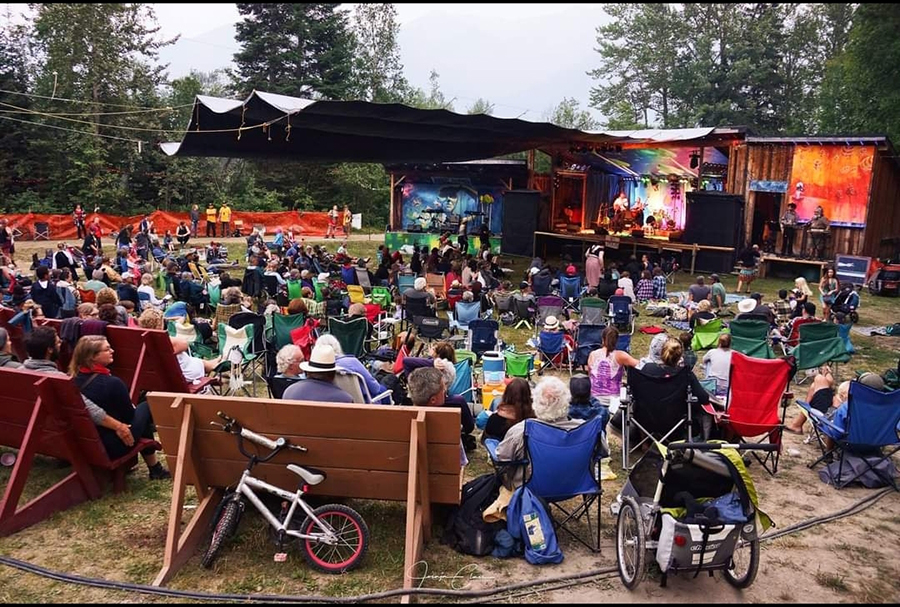 By Michael Piasetzki
After a two-year hiatus due to the COVID-19 pandemic, an annual event that has grown to become an old friend to local music lovers will be returning to Dunster in August.
Located between the Rocky and Cariboo mountain ranges and taking place on five separate stages, the 14th annual Robson Valley Music Festival will unfold Aug. 12 to 14. Tickets go on sale April 1, and can only be purchased online.
Before COVID restrictions forced its postponement, the festival was known for featuring different musical acts from all over the world. Their repertoire ranged from folk to punk, world, latin, blues, and rock. As well, art and dance workshops, performers for children, and other various programs were offered.
"Lots of people have been contacting me over the past couple of months," said festival executive director and producer Shara Gustafson, a local musician who along with husband Seth Macdonald has been the brains behind the event from its inception. "People were just really missing it. It's been a long two and a half years and people are more than ready for this. So we thought we'd put together a smaller gathering. We've got a really good crew who are willing to help out and get the place in shape."
By a smaller gathering, Gustafson explained about 250 fewer tickets would be sold compared to previous years. As well, slightly fewer acts will perform.
"Because we just decided a couple of weeks ago to put this together, we're doing work now that usually would have started in November," said Gustafson, who is also the artistic director of the Robson Valley Music Society. "This will be a gentle start to get back on our legs. One thing we take pride in though, is the quality of acts that will be presented. We tend to find artists that make people say 'wow.' We don't put artists in the line-up just to fill it. We are choosy. People have told me in the past that they never look at the line-up. They know it's going to be good. There will be a good variety of high-caliber emerging and established artists."
Some of those musicians in the past have hailed from Valemount, including Nick Beddington and the Drunken Midnight Howlers.
Even though the complete lineup for this year's festival has yet to be determined, Gustafson said the line-up should include somewhere between 30 and 40 acts.
She was able to confirm two acts, including Winnipeg's Mariachi Ghost, a band that plays traditional Mexican music with rich harmonies and dance, and Toronto's Abigail Lapell, a modern folk singer who has won two Canadian Folk music awards and was named English Songwriter of the Year for 2020.
Gustafson pointed out that those who attend the festival will be able to consume alcohol, but at a designated beer garden. Food vendors will be on-site, but she added people should bring their own drinking water.
"There will also be a kids zone," she said. "But people should also know that dogs will not be allowed to attend the festival. Through the years we've learned that even though we love our furry friends very much, festivals like this are just not a good place for dogs."
For more information on the festival, including how to volunteer which will earn you free admission, along with how to purchase tickets—which according to Gustafson are expected to go fast—go to www.rvmf.ca