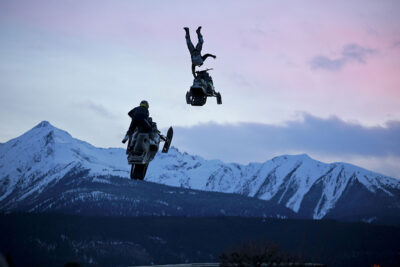 By Laura Keil
Saturday night in Valemount wasn't too unusual in the sense there were snowmobiles on the mountains. Only this time, they were suspended in the air.
A strong, energetic crowd packed Valemount's downtown between Cedar and the edge of the commercial district to watch two master athletes perform acrobatic stunts on their snowmobiles high in the air.
The freestyle snowmobile show was sponsored by Tourism Valemount and the Valemount Area Recreation Development Association (VARDA). A launch ramp and giant inflatable landing ramp were erected in the middle of 5th avenue so spectators could get a front-row seat to the amazing gravity-defying feats of two world-class snowmobilers.
Brett Turcotte, 2018 gold medalist in the Snowmobile Freestyle event at the X Games, said he thought the show set-up and turn-out was amazing.
"Certainly it was one of the most scenic backdrops I've ever jumped in," he said. "I love to perform—the energy of the crowd, the excitement of the kids—everything about the whole process is very rewarding for me."
Turcotte said he first started doing tricks in his backyard on his mountain bike, and slowly things progressed from there, to his dirt bike and then to snowmobiles.
Similarly, Brandon Cormier, 2020 X Games gold medalist, started doing tricks as a kid after being inspired by freestyle events he saw growing up.
"The tricks started early in my younger years with easy basic tricks, and as I got older, the tricks started coming naturally."
"Natural" is hardly a word you'd use to describe the stunts Cormier and Turcotte performed after they launched themselves several storeys into the air—going hands free, standing on their sleds, or even hanging from them upside down.
"I have a passion for riding my snowmobile so putting in the work to learn new tricks only feels right," Cormier said.
He also loved the set-up of Saturday night's event.
"I thought the set-up was very cool being right on Main Street with the Valemount mountains in the background!"
Curtis Pawliuk, VARDA GM, said the event was a huge success.
"It was everything we hoped for," he said. "We are so stoked to see all the happy comments and positive feedback. It was great to bring something sled-related into the community where everyone could benefit and enjoy it."