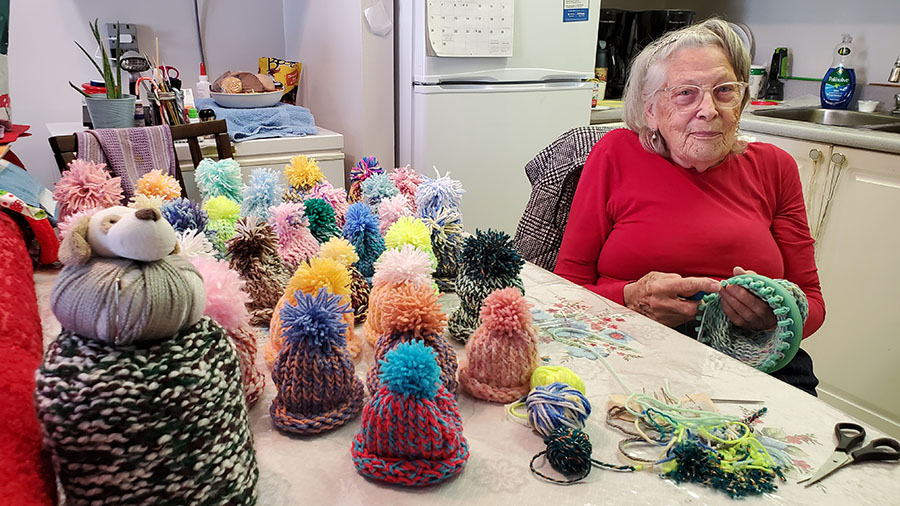 By Andrea Arnold
McBride resident Rose Sutter has taken it upon herself to knit 500 little baby toques to donate to the University Hospital of Northern British Columbia in Prince George before the end of 2022. She sees the project as a way to help lift people up through this particularly trying time.
This isn't out of character for Sutter. Approaching her 85th birthday, Sutter tries to find the happy in every day, and share it.
"I had a really rough marriage," Sutter said. "I learned that you can't feel sorry for yourself. That you have to leave the water under the bridge and keep going. I look for the best and help people smile."
She has given her time and skills to brighten the day or lighten the load for others wherever she can since.
Sutter has been knitting tiny toques and socks for babies and donating them to the McBride and District Hospital for many years. Last week, she had the idea that she could help spread smiles into Prince George as well. With a little research and math, Sutter was able to set the goal of knitting an average of two toques a day throughout the year in the hopes of providing one for every child born in Prince George in 2022.
Sutter has been knitting since she was in Grade 3. It was part of the curriculum and she remembers her first project(s).
"I knitted pullovers for my three brothers," she said.
Since then she has also ventured into the world of crochet. However, a majority of her creations are knitted: blankets of all sizes, socks, hats, dishcloths, slippers, clothing and headbands. Her yarn stash could fill a small store, and will last her for years to come. She reported a bit sadly that she used to be quicker, but age has caused her to slow some. However, the goal of two a day is still very attainable.
During the hour-long interview with the Goat, she nearly finished another toque.
As she begins this year-long venture, each of these tiny labours of love only uses up a small amount of yarn, so she has started by using remnant pieces from larger projects.
When she completes a project, even the tiny unusable pieces of yarn are given a purpose..
"I grew up in a time where nothing went to waste," said Sutter. "I put the pieces out for the birds to use in their nests. I have 3 birdhouses to put out this year and will be putting some in each for them to use."
Sutter would like to see more people reaching out and helping others.
"I hope that by sharing this idea, more people will do things for the needy," said Sutter. "There are so many needy people in the world, it isn't funny. I hope others will help make people smile."
She hopes that when families with new babies are presented with a toque, it brings them a moment of joy the type of joy normally reserved for Christmas and other special occasions.
"I've got Christmas all year round," said Sutter. "People look at me funny and ask why. It brings a smile to my face."