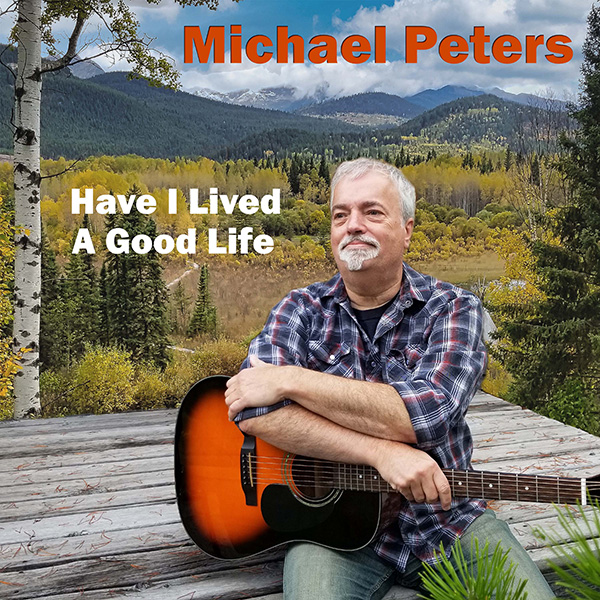 Submitted
Two years of the Covid-19 pandemic may have left local musicians few venues in which to play, but for one Valemount singer-songwriter there's a silver lining around that cloud: time.
Michael Peters, formerly a member of the popular three-piece Valemount band Drunken Midnight Howlers and current Station Manager at Valemount Community Television, has channeled his COVID downtime and energy into producing a four-song Extended Play album of original songs entitled 'Have I Lived A Good Life,' which released February 4, 2022.
The EP was recorded at Vinyl Deck Studios in Prince George last October and November using a combination of Valemount and Prince George musicians. Valemount bassist Greg Reimer plays on all four songs. Peters also sings a duet with local Cat Crowley on 'I'll Still Be Here.' The other musicians were all from Prince George, except cellist Kirk Starkey, who recorded his parts remotely in Hamilton, Ontario. The EP was co-produced by Peters and Prince George singer-songwriter, William Kuklis.
Peters has written upwards of 70 songs and felt the time was right to record some of them.
"One of the hardest parts was deciding which songs to record," he said.
Recording in a studio is an expensive process, so he could only afford to record four songs. He ended up going with two newer songs and two older ones, based on how people had reacted to them in past performances.
Peters managed to secure a partial grant from the Columbia Kootenay Cultural Alliance, managed locally by the Valemount Arts and Cultural Society. He also held a fundraising concert last September in Tete Jaune, busked at the Valemount Farmers' Market and in Jasper, and put in some of his own money.
"Many people who couldn't come to the concert still donated to this project, as did some of my family members," said Peters. "I can't thank everyone enough for helping me turn my dream into a reality."
He has already had some success in getting two of the new songs played on the radio. Peters and another local musician, Wayne Brown, wrote and recorded a tribute song for the 100th anniversary of the Bluenose last year.
"I managed to make a connection back then with CASF, a community radio station near Halifax, Nova Scotia, and they played our song 'When The Bluenose Was Queen' throughout 2021. I reached out to them again and they were kind enough to put two of my new songs into their emerging artists' rotation," said Peters.
Peace FM in Chetwynd, BC, 300 kilometres north-east of Prince George, has also added two songs off the EP to their local artists' rotation.
The EP's title song 'Have I Lived A Good Life' played recently on CBC One's program, Daybreak North with Carolina de Ryk, to listeners from Haida Gwaii, to the Peace region, and all through the Robson Valley. Peters was thrilled.
"There is something really special about hearing a song you've written and recorded talked about and played on the radio."
He credits Tete Jaune and Valemount locals Carol Bustin and Jane Shaw for calling into the show to request the song.
"These are really personal songs," said Peters, "Songs about the power of relationships, family, nostalgia, and examining your life. I think the themes are universal, so many people should be able to relate to them. It's the eternal question, isn't it, 'have I lived a good life?"
The EP 'Have I Lived A Good Life' is available now digitally on a number of online retailers. Physical CDs are also being produced and should be available shortly for purchase. Details can be found on Peters' Facebook page https://www.facebook.com/michaelpetersvalemount