By Jean Ann Berkenpas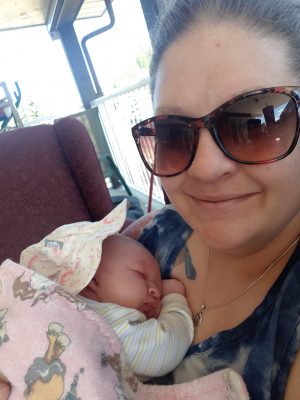 ---
Giving birth during a global pandemic is not a situation most people expect to be experiencing in their lifetime. Nonetheless, it is a situation many families currently face. Despite the rapid and ongoing changes in our medical system, local families are still feeling well taken care of. Medical practitioners are working hard to provide the best care they can during this challenging time.
Jillian Flavel-Keim and David Lerch welcomed their second child, Hannah Grace on April 19th at the University Hospital of Northern British Columbia in Prince George.
"There were only a few restrictions," said Flavelle-Keim. "David wasn't able to come to check up appointments and one non-stress test. He was allowed to attend Hannah's birth, as was my doula."
Despite women being required to labour and birth alone in some parts of the world, and severe restrictions in some Canadian hospitals, this is not the case in British Columbia. Because Covid-19 has not spread extensively in BC, the medical system has not been facing the same strain and risk of transmission as in other areas. Aside from additional screening and safety measures, it would appear that women in BC, and in the Northern Health region, are able to access the usual medical services.
Prenatal appointments continue as scheduled prior to the pandemic, with extra measures in place to prevent transmission of the virus. Some of these measures include additional screening, and options for virtual or phone-in check-ups. There are fewer people in waiting rooms with more space between seating, to allow for physical distancing. Staff in hospitals and clinics are also using additional personal protective equipment, and there is more extensive sanitation and cleaning.
"At first I was super stressed about appointments," says Melanie Bryant, "but now I kind of enjoy going into an empty clinic." She is expecting her third child this summer. After having twins in her first pregnancy, this time is much different, with or without the pandemic. "It is a lot easier this time," said Bryant.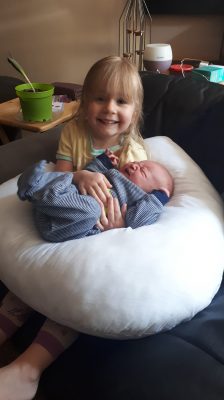 Registered midwives and doulas continue to work in hospitals. Women are still allowed a support person, such as a partner, in the delivery room. Cesarean sections are managed on a case by case basis, but in many situations the partner or support person is still allowed in the surgery.
Perhaps the most difficult part of welcoming a new baby and family member during this time, is the requirement to maintain physical distancing after the birth.
"We weren't allowed any visitors after Hannah was born" says Flavelle-Keim "and David was unable to leave the maternity ward while I was recovering, or he wouldn't have been allowed back in."
In a time when mother and child are usually surrounded by family and friends, post birth during the coronavirus crisis looks a lot quieter. It can be lonely for some parents of new babies, and a strain without the usual help many rely on from their community. Reaching out to meet, hold and support families with new babies looks different in today's world.
"Even though the care looked very different this time, I still felt very well cared for," said Flavelle-Keim of her birth experience. They were also able to stay with her family in Prince George before and after the birth, and receive some immediate support from her family.