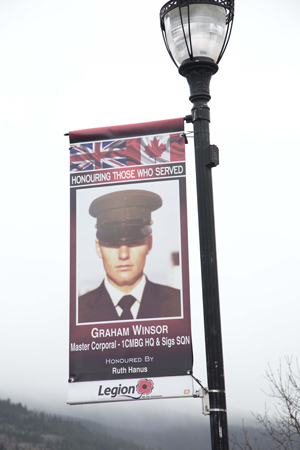 Credits time spent with Canadian army for coming of age as a person
By Michael Piasetzki
Master Corporal Graham Winsor, a 57-year-old Valemount resident who along with his partner Ruth Hanus currently operates the Slippery Slopes Bed and Breakfast in the village, spent 20 years in the Canadian Armed Forces.
In 1984 at the age of 20, wide-eyed and inexperienced, Winsor decided to sign up with the Canadian regular armed forces in Deer Lake Nfld.
"I was a young buck back then," said Winsor. "There wasn't a lot of work around the area back then so I joined up. They told me I'd be trained as a Performance Oriented Electronic person. That sounded exciting to me and I accepted their offer. The rest is history."
That history included stints spent serving his country at Canadian Forces Bases in Cornwallis, Calgary and Edmonton where he was promoted to Master Corporal along with overseas duties in Lars, Germany and Bosnia.
In 2004, he received a medical discharge and his military career came to an end.
Winsor said one of the biggest benefits from time spent in the Armed Forces was learning the importance of having a proper work ethic. He also credits the army for allowing him to experience and learn about life and all the ups and downs it throws at you and as a result, growing as a person.
"I was so green when I entered the forces," he said. "I left a man with so much experience under my belt."
When asked what Remembrance Day meant to him, Winsor pointed to a recent Facebook post he stumbled upon where Remembrance Day Canadian flags were on sale. One of the flags featured a Canadian soldier carrying a weapon adorned with a set of wings.
"That spoke to me," he said. "As soldiers we're not angels by any means. But when we're out there protecting our country or our families, we do that for a reason. We don't ask for anything. We do it for ourselves and our country."