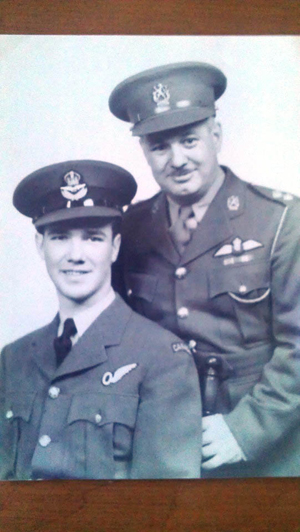 By Andrea Arnold
In WWII, Dunster resident Nancy Taylor's father, Flying Officer Sam Taylor was forced to jump from his flaming aircraft very close to the same spot over France that her grandfather Neil "Piffles" Taylor and her great uncle Sam Taylor were shot down during WWI.
The elder Sam Taylor served with the Royal Naval Air Service and the Royal Air Force along the Western Front until he was killed in action on July 7, 1918.
Nancy's grandfather Neil Taylor, or Piffles as most people knew him, joined the Royal Flying Corps and qualified, along with his brother, to fly by mid-1917. He piloted a Bristol F2 two-seat fighter aircraft for about a month in action before being shot down over German-held territory. He was captured and became a prisoner of war.
In a letter he wrote to his brother Sam recounting the events. He said that he was forced to land when his eyes filled with blood. "Seven dived out of the sun and cut me off. I scrapped 15 minutes and the machine was riddled with bullets. It was half shot away, wires and all. How we escaped I know not."
He had escaped death but he lost one eye, and spent almost a year and half as a prisoner, before being released and returning home in February 1919.
Taylor returned to play quarterback for the Saskatchewan Rugby Club, taking the team to a victory over Calgary for the Hugo Ross Trophy. His involvement in the club ran from player, coach, executive (when the team was renamed the Roughriders), and president. After his sudden passing in 1946, the home of the Roughriders was renamed Taylor Field. The name stuck to the playing surface even after the building was renamed Mosaic Stadium in 2006. The street outside the original stadium was renamed Piffles Taylor Way that same year.
Flying Officer Samuel (Sam) Taylor, Navigator Royal Canadian Air Force was part of a crew operating a Short Stirling type III bomber. This bomber was one of 120 that took off on May 1, 1944 to carry out a raid on rail yards and stores depot in Chambly Oise, France. While the mission itself was a success, the aircraft that Taylor was on was hit by German night fighters and went down in flames. Taylor and Eric Wright were the only two crewmen able to evacuate the plane before it crashed and exploded. Their survival was not known initially and Taylor's parents received a dreaded telegram from the RCAF stating he was reported missing after air operations overseas. His father Neil "Piffles" was especially concerned as he thought back to his time as a prisoner of war.
Meanwhile, members of an underground organization called Le réseau Comète (The Comet Network) found the two survivors and transported them to safety in Paris. The network was a large group of volunteers that provided clothing, transportation and safety to allied soldiers and airmen trying to evade Nazi capture.
Their method changed from transporting evaders to containing them in 1944 and camps were set up in strategic hidden locations, many surrounded by German forces. The Fréteval Forest was selected for its tree coverage, fresh water supply, open space for air drops and a supportive French community surrounding it. The forest also contained well known German ammunition depots and was only 100 metres from a road frequently patrolled by Germans.
On June 10, 1944 Taylor and Wright made the choice to leave Paris and make their way to the camp. Taylor's group was stopped by German police and the two members of the Comète were arrested. The six airmen jumped from the wagon and took refuge in the bush along the road. Five days later they arrived at Bellande Camp. They lived under strict rules set in place to ensure safety, including no raised voices. At its biggest, 152 evaders lived in the camp, and they relied on supply drops for food and medical supplies. After each drop, men would work to stand crops back up, leaving no trace of their activities. A level of military discipline was maintained by senior officers to keep morale and health up until liberation. The men in camp passed their time quietly playing cards, golf and sunbathing.
The day before they were liberated they found out that a nearby community was free of Germans. The men were welcomed by the celebrating villagers. The camps were formally liberated on August 13, 1944.
Taylor's parents received their second telegram from the RCAF announcing his safe arrival in England on August 23. He retired from service in December of that same year.
He followed in his father's footsteps, managing the Drake Hotel in Regina and was an active part of the Roughrider association until he and his family moved to BC in 1966.
Taylor suffered from health problems caused by severe PTSD, and passed away in 1970 at age 46.
This information was gathered from a book that Nancy's son Taylor inspired after a presentation he made about his grandfather at the Bulkley Valley Christian School in 2019.