By Andru McCracken
---
The Mountain Valley Music Festival has been cancelled indefinitely.
Levi Taylor was prepared to defy a cease and desist order from the Agricultural Land Commission, but when the commission threatened a fine of up to $100,000 which would be levied against this property, Taylor lost the support of his family, the registered owners of the property.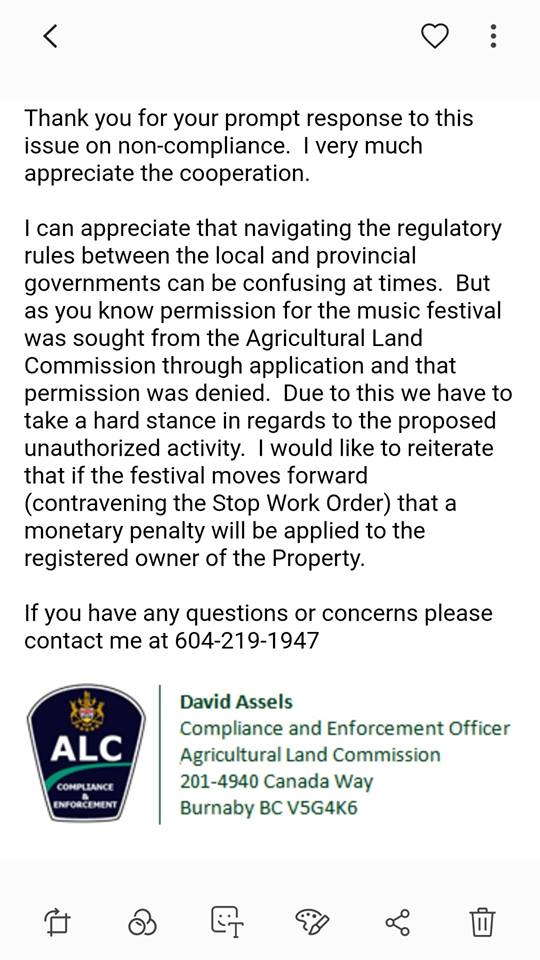 A message from David Assels, a compliance and enforcement officer with the Agricultural Land Commission laid out the situation.:
"…as you know permission for the music festival was sought through the Agricultural Land Commission through application and that permission was denied. Due to this we have to take a hard stance in regards to the proposed unauthorized activity. […] if the festival moves forward a monetary penalty will be applied to the registered owner of the property."
Taylor wasn't pleased.
"I have lost the festival and now I am being kicked off the property and out of my house I built because of all this," wrote Taylor in a post on Facebook on Monday. "I have lost everything and am now homeless. I'm sorry guys, I did my best."
It's not his first try at organizing. Taylor founded and organized the Fight Cancer Music Festival in Calgary that helps raise money for kids with cancer.
Friends of Levi rallied around him on social media suggesting alternative locations.
"… you have the support of so many people, your dream doesn't have to just be on your shoulders! […] there is always another way, even if it doesn't seem like it right now, you have to believe there can be! Reach out! This community is filled with people who know people, who know people, etc etc! Push out those feelers! Stay strong man! " one supporter wrote.