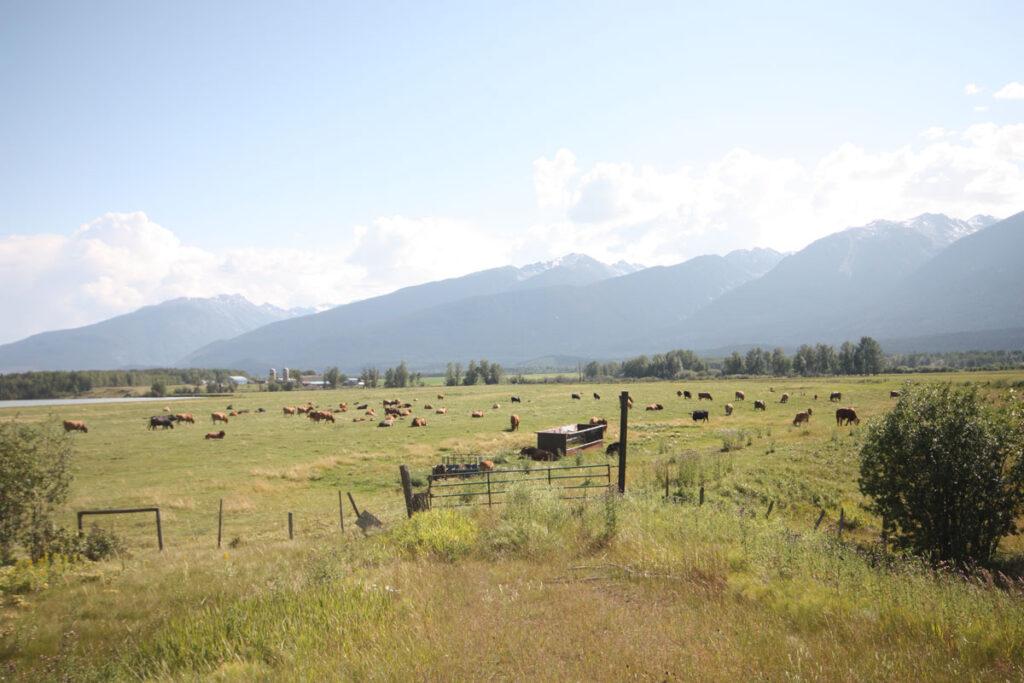 By Laura Keil
Owners of agricultural land in BC will have the option to add a second home to use for more varied uses, after changes announced Monday.
The NDP government is easing restrictions on secondary homes and suites within B.C.'s Agricultural Land Reserve (ALR) beginning Dec. 31st 2021, allowing property owners to build a second home or suite to use as a rental property, farm worker lodgings, agritourism, or for extended family members to use for non-farm use. Previously, small secondary homes were only allowed on ALR land for use by property owners or immediate family members, or for farm-use with permission.
B.C.'s Agricultural Land Reserve (ALR), is land zoned for farming as its primary purpose, and makes up just 5 per cent of BC's land base with the greatest agricultural potential.
Hani and Therese Gasser run a sheep farm on 535 acres near McBride. Hani took a moment to consider the news when he heard it on Monday.
"I'm not so sure. I think the ALR, it's good to be protected," he said. "But after I think about it, it would be nice for us if we could build another house and the kids could live here."
Secondary homes no longer have to receive approval from the Agricultural Land Commission before being built.
However, they do still need approval from local governments or First Nations before construction begins.
The size of secondary residence will depend on the size of the land parcel and the existing home.
On parcels 40 hectares or smaller, if the existing residence is less than 5,382 square feet, a second residence up to 970 square feet can be built. If the existing residence is larger than 5382 square feet, then a secondary residence for non-farm use would not be allowed. However, farmers can still apply to the Agricultural Land Commission (ALC) for another residence for farm use.
On parcels larger than 40 hectares, a second residence of 2,000 square feet or less is permitted, no matter the size of the first residence.
Landowners who had previously invested in a secondary manufactured home on their land have until Dec. 31, 2021, to ensure appropriate permits and authorizations are in place.
Local grower and baker Yann Assemat welcomed the news. He and his young family live in a yurt on the property of long-time Dunster grower and community member Pete Amyoony, with the intention to take over the whole property one day. Their set-up may become a lot more common with the new regulations.
Assemat says their situation has been a win-win for his family and Amyoony, since the family has a place to put down roots and Amyoony has them to help maintain the property and assist him as he ages.
"The laws were not allowing us to do that, but we felt like it's the right thing to do," he said of building the yurt. "Our intention is really to take care of the land, and we're taking care of Pete."
He said they got help from the Young Agrarians to write up the lease agreement.
"They're amazing, they're so efficient, they put you in contact with lawyers, they hear your stories, there's other people's stories to be inspired from," he said. "It's also great to meet people and know you're not alone."
"I think this (new law) is going to give a lot of opportunities for younger agrarians in the province."
On the flip side, it will help older farmers transition into retirement, he said.
"It's difficult to leave a place if you've lived there your whole life," he said. "And so if you're farming in a place, and you're allowed to have a second family living there, it can really help (the family) for transitioning in and learning the skills."
He said it could also spur collaboration with, say, two families running a farm business together.
"Farming is changing. I think we'll see more and more collaborative ways of farming in the future in small communities. And this can really help people to start collaborating and having a legal place to live."
He said in Dunster, a farming community, it's very difficult for young farmers to afford a tract of farmland—most of which are very large. He says it doesn't help that increasingly agricultural land is being bought by large multinational corporations.
"That's why we're seeing things like tiny houses, smaller structures, and collaboration and different ways to try to farm and to access land because the big roadblock is we're playing a Monopoly game on on a worldwide scale."
Lana Popham, Minister of Agriculture, Food and Fisheries says her Ministry recognizes the unique needs of established farming families, those new to farming and those living in the ALR who don't farm.
"Our government's goal from the outset has been to protect farmland for future generations, so British Columbians can have a secure local food system and our communities can prosper," she said.
Examples of flexible housing options permitted under the regulation include, but are not limited to: garden suites, guest houses or carriage suites; accommodation above an existing building; manufactured homes; and permitting a principal residence to be constructed in addition to a manufactured home that was formerly a principal residence.
The Province says ALR landowners made it clear in engagement sessions that they wanted this type of residential flexibility.
"We hope this regulatory change will assist new farmers starting their businesses, encourage landowners to partner with new farmers to get their land into production, and address the needs of British Columbian families," Popham said.
Farming families will continue to be able to apply to the ALC for multiple, larger homes if they are necessary for farming purposes.
Brian Frenkel, president, Union of British Columbia Municipalities (UBCM), and councillor, District of Vanderhoof said UBCM is pleased to see changes that increase residential options for landowners in the ALR.
"Our members have identified housing affordability, house sizes and farm worker housing as important issues in their communities, and these changes will help local governments to address these challenges by working with local farmers and ALR landowners."