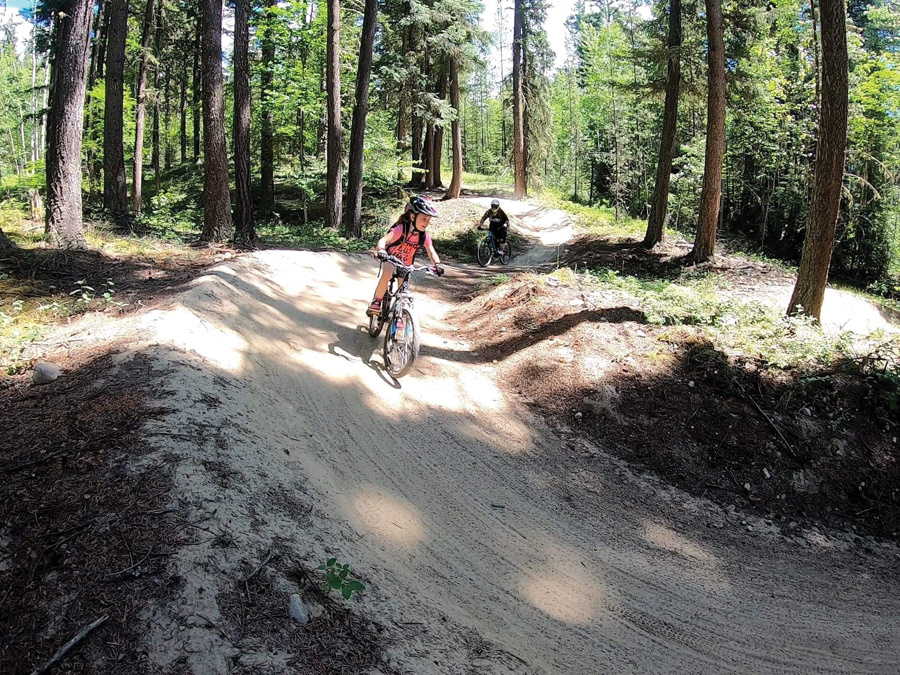 By Jean Ann Berkenpas
---
While it may feel like summer has just started, there are only seven weeks left until kids are back in school. Make the best of the time left for some family adventures outside:
Go for a walk in the woods
There are plenty of scenic options for any age and ability in the Robson Valley, from overnight backpacking trips to a quick stroll. Popular overnight trips for families in Valemount are the McKirdy Mountain YORA Cabin, and the Berg Lake trail. For a quick stroll, the George Hicks Park trail or the trail around Cranberry Marsh are located within village limits and the wheelchair accessible boardwalk is great for strollers. The Ancient Forest trail 1hr from McBride also has a stroller accessible boardwalk. Near the end of summer, salmon can be seen spawning along Swift Creek, or on the Fraser River at Rearguard Falls. Kristina Cantwell has made the popular day trip to Kinney Lake and back with her two daughters Scarlett (7 months old) and Ember (two years old). The 8km round trip follows the Robson River through rainforest to the glacial Kinney Lake. Much of the trail is well kept and manageable with a jogging stroller.
Check www.visitmcbride.ca and www.valemounttrails.com for a complete list of the many options in the area.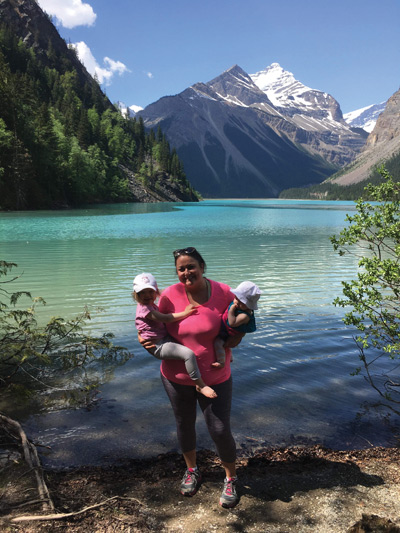 Chill by the water
The Kinbasket Lake reservoir is a popular place to be when the weather gets hot. It is a great place to build a rock collection, find beautifully shaped driftwood for arts and crafts, or go for a dip in the water. For canoeing, Moose Lake Marsh, Lucerne Lake and Myrtle Lake are all within an hour's drive from the Robson Valley.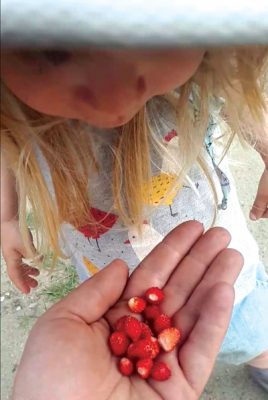 Forage for wild berries
Starting at the end of June, wild strawberries begin to ripen, soon to be followed by raspberries, Saskatoons, huckleberries, and blueberries. Jillian Flavel-Keim and her two-year-old daughter Emma make sure to taste and enjoy the summer berries.
"We don't have any secret patches. We wander and pick," Jill says, although local foragers are known to be tight lipped when it comes to keeping their preferred berry patches undiscovered!
When picking with small children, make sure to help them identify and choose the right plants to pick from. It does not take kids long to figure out which plants provide a sweet treat.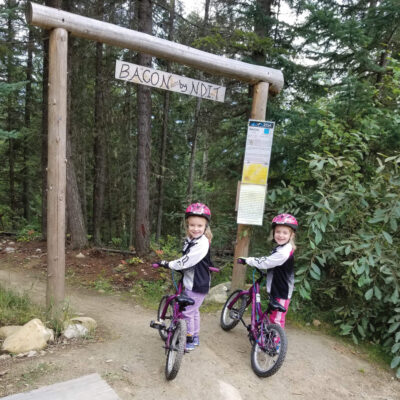 Go for a bike ride
Both Valemount and McBride have green level mountain bike trails. Jodie Chadbourn and her daughters Hayden and Lexi are frequent users of the Valemount Bike Park. During Bike Fest the six-year-old twins rode Bacon for the first time. While it was a challenge for them, they will certainly be back for more.
Camp out
There is something special about sleeping out of doors in the summer, whether your style is car camping, backpacking trips, or camping out in the backyard. A camp-out is a great way to get away from screen-time, and instead play board or card games, tell stories, and create some summer memories together.
Build a fort
Fort building is something universal to childhood. Almost anything can work as a building material: pine needles, sticks, sand, or blankets and couch cushions on a rainy day. Work with your kids to build a dream mansion, or set them up with a few building tools and watch their imaginations soar.
Have a campfire dinner
Dinner over a campfire is something special, and does not need to solely consist of hot dogs and smores (although it can if you like). Try cooking kebabs, pigs in a blanket, or make your own foil wrapped specialty. The benefit of this rainy July is that there are not yet fire bans. Of course make sure that your fire is properly put out after, so that we can continue to enjoy these smoke-free skies.
[rl_gallery id="37818″]