by Andrea Arnold
---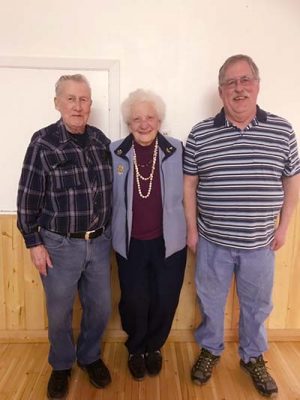 Len Downing joined the Elks in 1968.  It was a big organization back then, and a great way to get involved in the community.  "We volunteered and worked together to make things better for the community," said Downing.  In his 50 years of involvement, Downing has served in most positions within the organization.  Currently he is filling in as the acting treasurer and is also the on-call maintenance man. He has been involved in Pioneer Days since before it was called Pioneer Days.  "It used to be held at Canada Day," said Downing. "But we found that many people left town for a holiday then." It was moved to June and renamed Pioneer Days.
Downing has been involved in many other aspects of community life as well.  He served on council for 10 years, and held the position of director of the chamber of commerce for seven years.  He also was a volunteer firefighter for 20 years.  He played on the Old Timers Hockey team and was responsible for minor hockey starting in McBride. Downing firmly believes that willingness to volunteer is all that one needs to volunteer.
Lexie Elliott had been a resident of McBride for over half her life when she was approached by a member of the Royal Purple 61 years ago.  She didn't agree to it immediately, but thought it would be nice to follow in the footsteps on her grandparents who had served with the Masons and Eastern Star organizations."I was the youngest member at the time, I believe," said Elliott.  She found the group to be very welcoming and really funny. While she didn't always enjoy the work, she did enjoy the fellowship and camaraderie.  "One year goes by," she said. "Then two.  Then you're old.  Joining was the second smartest thing I've done. The first was to never start smoking." Elliott has also been an active member of the United Church Board,the Beaverview Lodge Society.and the Homemakers Society.  She was also very involved in hockey and skating when her children were active in the clubs.
Both of these individuals feel that anyone can benefit from volunteering, and that being part of something bigger, along with a group of like minded individuals is a reward in itself.  Elliott suggests that people should be involved in a few different organizations. "People are different in different situations," she said. "You get a varied view of people as you work alongside them." Downing agrees, and added that people need to get out and volunteer. "Volunteers are what keeps the community going," he said.
They both mentioned the upcoming Pioneer Days as a place to get started volunteering.  "Many people are needed to make it a success," said Downing.  Elliott said "With membership numbers down, volunteers are even more important."  If you are interested in helping out this year, please contact Kathy Molendyk 250-569-7201.