by Jean Ann Berkenpas
---

Spring is a great time to get outside and play in the dirt. A local McBride mother and son make gardening a central part of their time together during the summer months. Harmony Dawn Lincoln and her son John have a garden bed at the Open Gate Garden in McBride. John is now four years old, but has been playing in a garden since birth and has actively helped since the age of two.
This year John is in charge of his own garden project. Over the winter he selected seeds from the seed catalogue and started plants indoors. He is looking forward to watering, tending, weeding and harvesting his own flowers and vegetables, using the knowledge he has gained over the last few summers.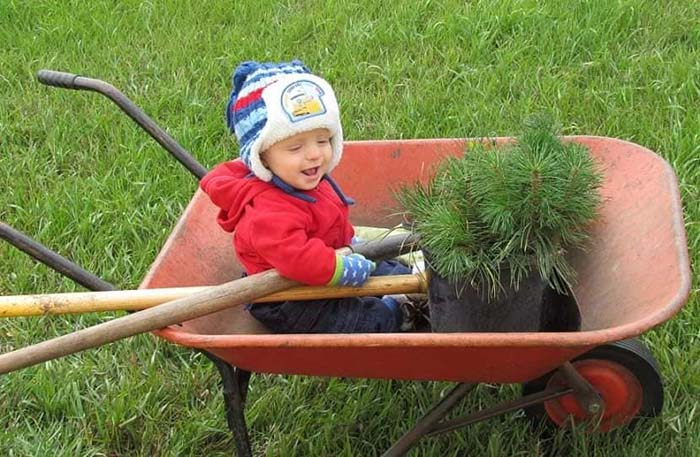 At the age of two, one of his first and favorite tasks was watering. His mother would set up a wading pool with a child sized watering can for him to use, and he would be happy for hours watering plants and playing in the pool. The wading pool would provide a space for the water to warm up, making it more comfortable than the hose to play in, and also better for the plants.
Lincoln suggests keeping the time in the garden fun and play-based. This means letting go of rules about where children can go and what they can do. Instead it is about allowing the opportunity to learn through action – even if it means some things get a little trampled or overwatered.
"They will learn by doing, and see what works and what doesn't" says Lincoln. "A perfect garden does not have to look perfect, it just has to be a place where they can be perfectly happy."
Lincoln is a landscape designer, and brings that experience and knowledge to work to create an engaging place in the garden for her son. When John was younger, she built small raised beds by raking the soil into mounds and thus prevented him from inadvertently trampling young seedlings in rows that he could not yet visualise. Now John enjoys gardening so much, that he is planning his own garden space. He loves having a tent of pole beans to take a nap in, and colorful calendula and bachelor button flowers to look at.
The best seeds for young first-time planters are large, such as onion sets, peas, beans and potatoes. This is what John started with when he was younger. Some of his favorite plants to grow are kale which produce over a long season, fast-growing radishes, and the large zucchini and squash plants. Now that he is older he gets to plant a greater variety of his choice, and his knowledge of different plant varieties is quickly expanding.
John also has his own gardening tools, such as an appropriately sized shovel, watering can and garden trowel. He has used his own spending money to purchase some new tools for this season. He also frequently employs his loader truck and other useful toys to help with hilling plants or digging trenches.
John updates a Facebook page called "Little Gardener," where he shares his garden adventures and inspires other young gardeners (with mom's supervision of course). Next week we will further explore the topic of gardening with children, through a look at creating a sensory garden and other garden projects for young children.