By Jean Ann Berkenpas
---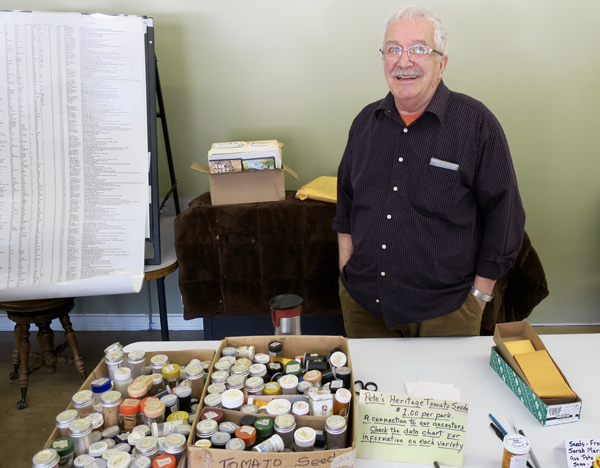 Over 70 people with an interest in gardening came out to the 6th Annual Robson Valley Seedy Saturday, held at the Dunster Schoolhouse. Attendees enjoyed presentations from local experts on composting, soil building, pruning, grafting, seed starting, greenhouses, grow tunnels, pest management, watering, and garden placement. This was also an opportunity to exchange local seed varieties, gardening advice, and ideas for the upcoming growing season. The event was organized by the Open Gate Community Garden Society.
Garry and Wendy Lowe of Twin Meadows Farm just north of McBride, spoke at one of the "Tip Tables," where attendees listened to short 10-minute talks and had the chance to ask questions of five local experts. The Lowes spoke about pest management and control. Like other presenters, they advocate and use organic gardening practices on their farm, where they primarily grow root crops and ancient grains for the market in Jasper, Alberta.
Pete Amyoony was the main supplier of seeds, with over 300 varieties of tomatoes that he grows in the valley. "Every year I grow about one third of them" he says. "That ensures that I never have seed more than three years old." He has an alphabetized list of all the varieties, with detailed information such as size, days to maturation, and where, when and from whom he acquired the seed.
Event facilitator and president of the Open Gate Garden, Penny Rivard, is hoping the seed exchange will catch on more in future years. "We would really like to see more people bringing seeds" said Rivard. In addition to Amyoony's hundreds of tomato varieties, there were a handful of other locally-produced seed varieties available.
At the end of the day, the anticipation of spring was palpable. Participants of all ages went home with new ideas planted in their minds, a few new seeds in pocket, and the promise of springtime around the corner.
Seedy Saturday events are initiated by Seeds of Diversity, a Canadian not-for-profit organization dedicated to preserving heirloom and endangered varieties of food crops and educating the public about their importance. According to their website, Seedy Saturdays are organized across Canada "under the general theme of encouraging use of the open-pollinated and heritage seeds, enabling a local seed exchange, and educating the public about seed saving and environmentally responsible gardening practices."