by Andru McCracken
---
Although the future of the Trans Mountain Pipeline is still being reviewed, pipe that was ordered when the project was approved will be making its way to Valemount soon.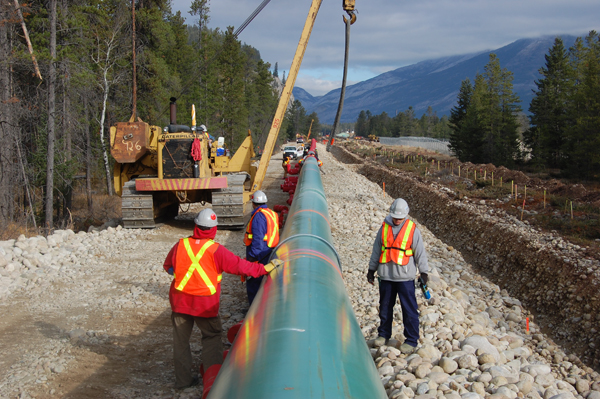 "With a project of this scope and size, there is a long lead time required for the procurement of many of the materials needed for construction. As such, crews are preparing the worksite for delivery and safe storage of construction materials and equipment for future use, including stockpiling and staging pipe that was ordered and in transit prior to the court decision," said Ali Hounsell, a spokesperson for Trans Mountain.
"The expansion project was suspended in August 2018, but with a project of this scope and size, there is a long lead time."
There hasn't been any development at the site chosen for a 500-person temporary workers camp across Highway 16 from the Best Western hotel, and locals have wondered if the camp has moved. It hasn't.
"Worker camp development was put on hold when the Federal Court of Appeal decision was issued. We continue to refine our plans, including ensuring we meet all necessary regulatory requirements," said Hounsell.
"We are moving forward with planning and engagement activities related to the temporary full-service camp planned for the Valemount area to ensure visiting workers have a place to live while they're working. Our objective is to balance the positive impact of economic benefits for local accommodation, retail and service providers, with the need to satisfy local concerns about increasing demand on accommodation and housing. If we receive the necessary approvals, we expect to start preparation work in most worker camp locations later this year."
Trans Mountain is expecting the federal government to decide whether the expansion project should proceed by May 23, 2019.
According to Village staff, a temporary use permit for the Highway 16 site issued by the Village of Valemount has expired. If they plan to use the site for a worker camp Trans Mountain will need to apply for the Temporary Use Permit again.