by Andrea Arnold
---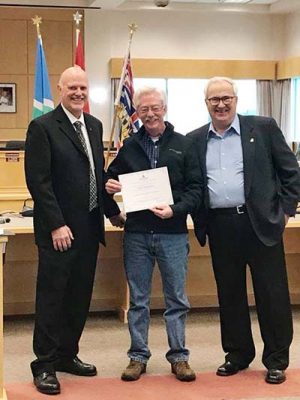 The Regional District of Fraser Fort George honours outgoing representatives with a donation to the charity of their choice.  Rick Thompson, the outgoing council representative of McBride chose the McBride Hospital Auxiliary to be the recipient of this donation. "I have always tried to do the best for McBride and support local initiatives. The work of the McBride and District Hospital Auxiliary is one charitable organization that has a direct benefit to those who live, work and play in McBride," he said.
Thompson became a councillor and served for about seven years as alternate municipal director for the Regional District. In 2015, councillor Thompson became the director and served for three years.
Since then, Thompson was involved in the purchase of 521 Main Street for the purpose of Library and Museum relocation.
"Following the successful referendum, there was extensive works that had to be completed on the building to bring it into compliance for a public facility. There were funds approved at the Regional District level to complete these without additional cost to the taxpayers," Thompson recalls.
He was also involved in the decision not to provide additional recycling services to the transfer station due to the tax load.
Just because his load has lightened, he doesn't feel as though he will run out of things to do.  "Time is an interesting thing, there are always things to do that use it up," Thompson said.  He says he will continue to be an active member of the community.  Currently Thompson serves as a member of the Healthy Communities committee and the Legion, and hopes to continue to grow SnoFest into a bigger winter celebration in McBride.