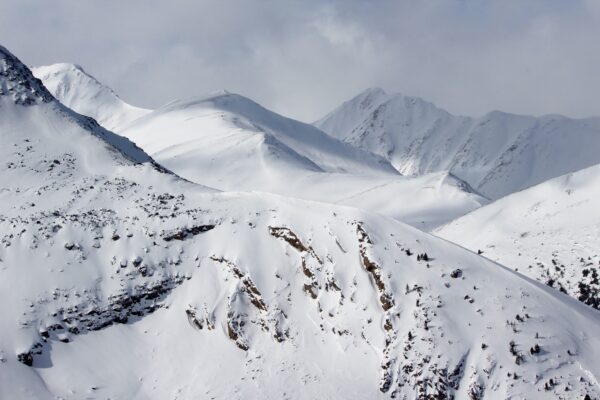 by EVAN MATTHEWS, editor
As the Jasper Tram Car approaches the upper station, the horizon begins to fade and the snow begins to fall.
I exit and strap into my snowshoes.
A slow but steady hike up to Whistlers Mountain's false summit provides some excellent views; the wind bites fiercely at my legs.
I know there are a lot of adventurers around these parts, but to snowshoe in an alpine environment is something I had never experienced.
The experience is about more than a photo. When people get to appreciate the beauty, the power, and the full experience of a high altitude environment, they become ambassadors not only for the experience, but also for the location.
Such is the case with the Jasper SkyTram and I believe will now be the case with Valemount Glacier Destinations' Resort.
The skeptics can finally believe. The shovels are about to go in the ground — Evan Matthews, editor
The skeptics can finally believe. The shovels are about to go in the ground.
The face of Valemount is about to change forever.
But whether it's due to a lack of experience, lack of resource, pure fear, etc., the backcountry in Valemount is something I have yet to experience myself in any depth.
A chance to experience something so different, yet similar, to the experience I described above.
I can't help but think there are a significant number of people who live here that find themselves in a similar position.
Which is why I'm so excited for all the involved parties and residents who will get to be a part of this transition, and a completely fresh perspective on the Village and the region. The gondola will give access to an unrivaled experience right here in our backyard. Something this town, and this region, can be so very proud of.
And when international visitors experience the mountains here, and the sheer beauty of the nature, they will also experience something else: the people; the energy; and the experience that is Valemount.
And in so many ways, the Village, its residents, and its surrounding regional community, are soon to reach a peak like never before.