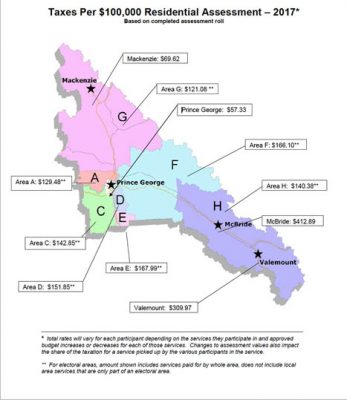 by EVAN MATTHEWS
The Regional District of Fraser-Fort George (RDFFG) has approved its 2017 operating budget and financial plan, meaning an increase in property tax to Robson Valley residents.
RDFFG operating expenditures will total $46M this year, up $3.2M from last, according to the district. Of the $46M, RDFFG says $18.5M will be funded through property taxation, which is an increase of $500,000 — or 2.8 per cent — over 2016.
The RDFFG taxes per $100,000 of property assessment, but the tax rate fluctuates based on certain variables. Regional District Chairman Art Kaehn points out property tax per $100,000 assessment depends on location as well as services provided. The Robson Valley receives more services than Mackenzie therefore taxes are higher.
In McBride, taxes went from $394.15 per $100,000 in 2016 to $412.89 in 2017, a 4.7 per cent increase; Valemount will see a 2.7 per cent increase this year to $309.97. Prince George residential taxes decreased 2.7 per cent while in Mackenzie the taxes decreased 2.8 per cent.
Some of the most significant 2017 budget projections include Solid Waste Management at $20.4-million, 9-1-1 Emergency Response Service at $3.5-million, protective services at $5.7-million, and recreational and cultural services at $3.6-million.
This year's budget maintains existing services and improves on several others, as Kaehn cited the new McBride Library and Museum site as an example.
"Many of these projects and purchases are fortunately supported with capital grants from the Federal and Provincial governments, NDI Trust and reserve accounts," says Kaehn. "We can move forward on projects that will improve quality of life for residents in our region without a significant impact on taxation."