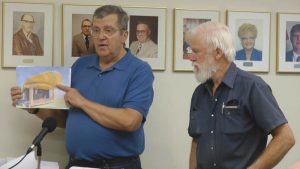 Music to the ears of many, the Village of Valemount may have a new hub for theatre and the arts if two local men get their way.
Gordon Carson and Bob Hoskins presented to council their plans for the construction of a new music and theatre stage. The stage — designed by Carson — would be constructed west of the visitor information centre at one end of two acres of Village property.
Carson says the stage would have its back against the woods, and would face the Shell station.
"We've got the whole field area there, which can hold a fair number of people."
The structure, which would have a frontage of 36 feet, would have an open beam top at the front and back, while the roof would be made of metal, and the decking made of 2×6 cedar, according to Hoskins.
The stage would also have change rooms and storage at the back.
The initial construction would see the structure built with the necessary wiring, lighting and electrical, so it would be immediately functional. Later, grants would provide additional lighting, curtains, etc., according to Hoskins.
"The cost has been upgraded a little bit to include construction of the stage, which initially, some of that was going to be volunteer based," says Carson. "The total cost estimate comes in at just under $70,000."
The multipurpose stage could be used for music, the arts, theatre, tourism presentations and even the Farmer's Market, they say.
Whether or not there is enough parking was a cause for concern, Carson said, but with the parking area by the spawning grounds and parking along the road, Carson says it should be adequate.
The only alteration to the parking lot, according to Carson, is to build a trail behind the Information Center in order to access the stage from the lot.
Councillor Blanchette asked who would insure the building, and although Carson said he wasn't sure how all of it would work, he said the Village would likely own the structure, and therefore insurance would be the Village's responsibility.
"With a bonus comes a burden — you pay a price," says Hoskins. "The construction Carson implemented gives you the best bang for your buck as far as keeping maintenance down."
The maintenance of the stage would be less than that of a log house, Carson says, as most of the stage is covered by the roof, and the stain on the decking is good for 15 years.
Councillors Salt and Torgorson thanked Hoskins and Carson for their impressive design, and for reviving a project that was pitched a number of years back.
CAO Mark Macneill says staff is reviewing the project and will provide further information to Council on this matter.