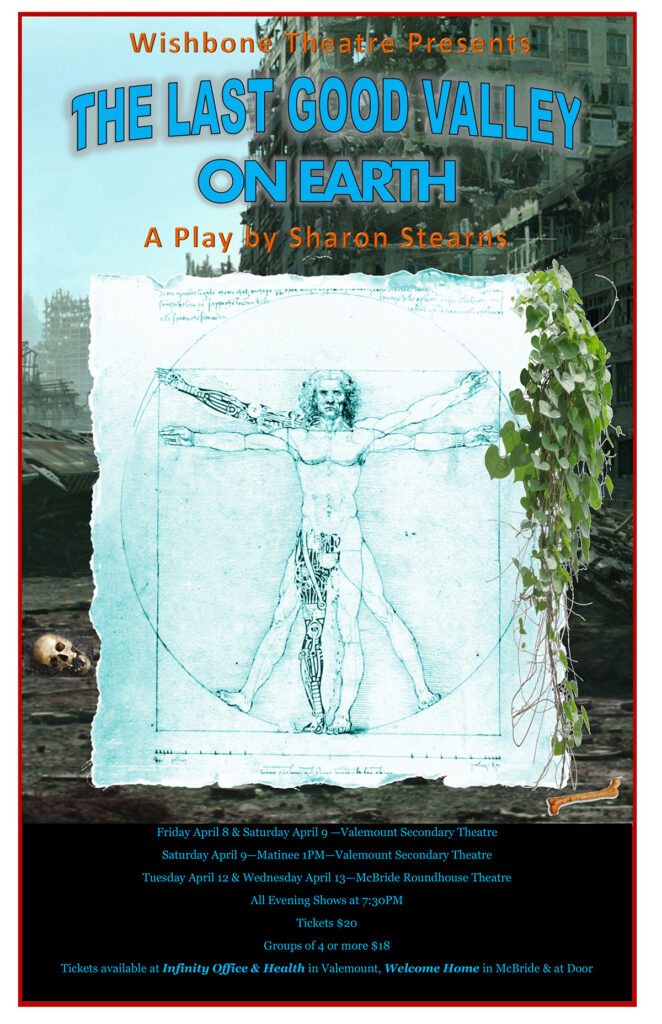 By Goat Staff with files from Sharon Sterns
After two years of delays due to the pandemic, the locally-created and produced Wishbone production "The Last Good Valley on Earth" is hitting stages in both Valemount and McBride. The show, originally scheduled to open in March 2020, has experienced much scheduling uncertainty regarding its premiere. The troupe is now pleased to announce they will be taking the stage April 9-13, 2022.
Playwright Sharon Stearns describes the plot as one encompassing many stories. A world collapse, a love story, Alpha Tec humans, swamp creatures, sad clowns, digitally designed kitties, cabaret music, an asteroid carnival act, and you have a play that welcomes you into "The End of the World as you never imagined it."
Wishbone's local performers include Ben Coyle, Isis Hiroe, Miwa Hiroe, Sarah McCrea, Kerry McNaughton, Sharon Stearns, Bridget Uhl, Cam Wallace & Monica Zieper. Production management includes Rebecca Wylie, Dustin Winzer and Bob Thompson
The shows are as follows: Valemount Secondary Community Theatre, Friday April 8 at 7:30 pm, and Saturday April 9 – Matinee at 1 pm – Evening show at 7:30. Then the cast and crew will descend on the
McBride Roundhouse Theatre Tuesday April 12 & Wednesday April 13 for 7:30 shows.
Tickets are $20, or $18 if purchased within a group of four or more and can be purchased at Infinity Office & Health in Valemount, Welcome Home Gifts & More in McBride and will also be available at the door.