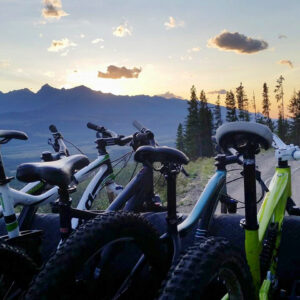 By Korie Marshall
Valemount's mountain bike trail system has the ok for construction next summer, which will complete the system up to the end of Phase 3 of the Master Plan. Now the association in charge is looking for more funding.
Curtis Pawliuk, manager of the Valemount Area Recreation Development Association (VARDA), says they received full approval from the Recreation Sites and Trails Branch for all their requested construction next summer.
"Very stoked," said Pawliuk. "We owe a very big thanks to those who have helped us to date."
An all day bike park party at the trail system is planned for Saturday Oct. 24th, for anyone who likes biking and also anyone with a birthday in October.
"The objective is to get as many people as possible out shuttling, have some fun, eat some food and dismantle the old wooden structures at the bottom of TV towers," says local resident and unofficial organizer Brendan Taylor, whose birthday happens to be in October.
The multi-use trail system on Five Mile Hill, including refurbishments to the Swift Creek Trail, started as a dream for local resident and outdoor enthusiast Andreas Thoni. Sited just a couple kilometers from the centre of town, the first phase and part of Phase 2 was completed this summer, and locals as well as visitors have been flocking to Valemount to check out the first few mountain bike trails, including downhill trail "Tinfoil Hat" and the Swift Creek Technical Zone. There are four phases in the Master Plan. The fourth phase is a single trail called an
"Epic" that would start in the alpine.
The project has received funding and partnership support from the federal government, Columbia Basin Trust, Northern Development Initiative Trust, the Valemount Community Forest, the Ministry of Forest, Lands and Natural Resource Operations, the Village of Valemount and Valemount Tourism, Yellowhead Outdoor Recreation Association, and support from the International Mountain Biking Association, Robson Energy Services, Cornerstone Excavating, and many locals and tourists eager to see the project come to full fruition.
Temporary signage for the project has been installed, and a downloadable map is available on VARDA's website http://www.ridevalemount.com/mountain-biking/ or on the Valemount Bike Park Facebook page.
"What we need now is your support for the funding applications," says Pawliuk. "Let's build this for our community."