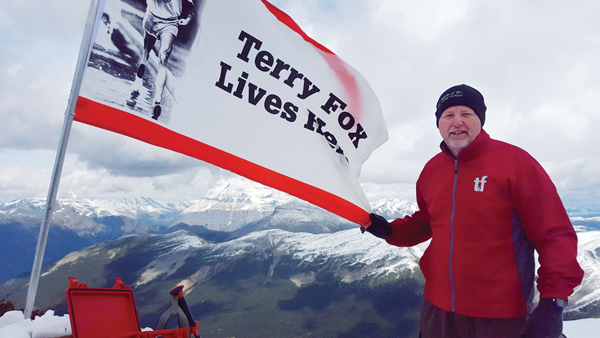 By: Laura Keil
Terry Fox's brother Fred started his journey to the summit of Mt. Terry Fox at the hardware store.
He needed a wrench and something to punch through aluminum.
At his home in Maple Ridge, he worked the aluminum rod he found at the local Terry Fox Foundation office. He shaped the metal in order to hold its new cargo: a flag for the top of Mt. Terry Fox.
On Sunday at around 12:30 in the afternoon, Fred carefully assembled the bright red flag onto the flag pole, raising it on the summit's rock cairn. The wind whipped the hikers, biting into their thin clothing. Fred's gloves were soaked and he couldn't feel his fingers. Those assembled tried in vain to take photos of the flag fully open, as the flag writhed in the frigid winds at 2600 metres. On the flag was a black and white photo of Terry – an iconic photo of him running. "Terry Lives Here," it read.
There was hardly a step he took, where Fred didn't think of Terry on the way up the steep, perilous and snowy ascent. 35 years after Terry Fox ran across Canada, his family and countless thousands continue to raise money in his name. The photo of him running with one artificial leg has become a universal symbol of courage in the face of adversity, selflessness, and hope. He has inspired people beyond Canada's borders in places like Cuba and Ireland.
Few Canadians have been so universally lauded and for so long. Terry has schools, parks, streets and a mountain named after him and honouring his memory. In the 35 years since he dipped his artificial leg in the Atlantic Ocean and began his journey west, the Foundation has raised more than $650 Million for cancer research. The type of cancer Fox had – osteosarcoma is now largely treatable, thanks to research, with roughly eight out of 10 patients surviving the cancer, and most of them keeping their limbs.
Nine years ago, Fred had attempted to reach the summit and monument, but had run out of time.
"I was so frustrated and so disappointed that we couldn't do it only because of time," he said.
Since then, he's been picturing his next ascent. On Sunday, the snow made it even more difficult than he had imagined.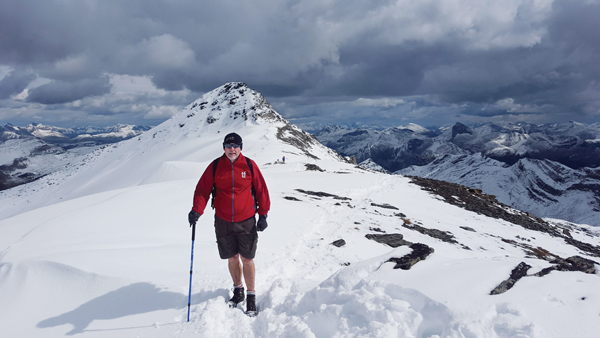 He said it was an amazing feeling to finally get there.
"I have goosebumps as I say this to you. As I was approaching (the peak) I was quite emotional. With the snow it made it more difficult, and how cold it got with that cloud."
While the family had visited the monument on the mountain in 1981 by helicopter, they had never been to the peak. Sunday was the first time they had ever reached the summit, and they did so on foot, with about 40 other intrepid hikers. Another 20 made it to lower points on the mountain.
Recent cold weather meant trudging through as much as three feet of snow along the upper ridgeline. The hikers bypassed three false peaks before reaching the real one.
Fred was disappointed that they couldn't get to monument because of the snow, but says they're going to have to do this again.
One group of hikers has already created a hashtag for next year's monument trek: #MAKETHEMONUMENT2016. The monument is placed on a different part of the mountain, far from the summit, but people like Chelsea Krupa say they can bypass the summit and take a more direct route.
Krupa was one of many hikers with a personal connection to someone who died from cancer. Krupa's best friend Jasmine Wallace was diagnosed with soft-tissue sarcoma, a rare form of bone cancer, in 2005. She passed away in 2011, at the age of 29.
After Jasmine was diagnosed, Krupa got involved in another cancer research charity – Cops for Cancer. Krupa and her friend noticed Mt. Terry Fox while driving down for an IronMan event and decided one day she would climb the mountain. Last year they made it to the repeater tower, but not the summit.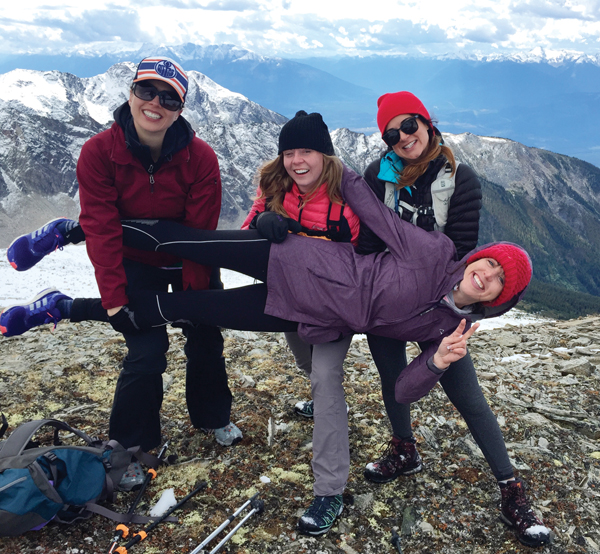 On Sunday afternoon her dream finally came true. She and three friends from Edmonton – Mina Deol, Katie McGreer and Julia Renouf – scaled the last rock tower to the tiny shelf that is the peak of Mt. Terry Fox.
Her friend Katie turned to her at the summit. They had just climbed through 2km of snow on the steep ridge. Katie asked her how she felt.
"I didn't have any words to describe it," Krupa said. "I think complete joy and relief? It felt like Jasmine was there with me, grinning as much as I was."
Krupa had a strawberry lip balm container Jasmine had given her eight years ago. She put a picture of the two of them inside the container and left it inside the weather-proof box people use to hold the log book. The photo is a selfie of them at a Spice Girls concert. Krupa has a huge grin and Jasmine is smiling serenely into the camera. Jasmine told her that during the two-hour concert she had managed to forget she was sick.
Krupa and her friends are planning not only to climb the monument next year, but also tag along on Darrell Fox's 360km bicycle trek from Kamloops prior to the hike. Darrell completed the 360km bike trek on Friday.
It was not known by press time how much was raised by the hiker's pledges. Hikers came from all over Western Canada, including Kelowna, Prince George, Victoria and Edmonton.
Fred doesn't know if the flag will last the winter. But he thinks it would be pretty neat for the next hikers to see it when they summit.
The hand-made flag pole is just one of the many torches lovingly crafted and carried by Terry's followers who continue his dream of finding a cure.