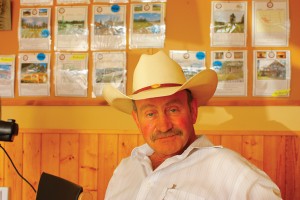 By: Frank Green
Rodger Peterson won't say how old he is, or how many properties he's sold over his 35-odd years in real estate. And he won't say how much the priciest one sold for.
"Asking the largest sale I made is like asking how many cattle I got," he said.
Peterson is a realtor—he just got a plaque from the Canadian Real Estate Association for 25 years of membership. But he's a cowboy first.
He doesn't wear ties—"One of these?" he asked, gesturing at his collar. "You start gussying me up and people would say 'Who are you?'" And bolo ties aren't good for breathing, he noted.
He hasn't worn a suit since his wedding. He wears the same boots and pants at the office that he wears at work on his ranch. And handshakes, rather than the contracts he draws up, are the essence of his business, he explained.
Peterson would say that his least expensive sale was also his first—$8,000 for a house lot in Valemount, back when he was working for his brother, John, at Yellowhead Realty. And he said that $1,000,000 buys are no longer uncommon in the Robson Valley. Above all, he wanted to say he was grateful to the people of McBride.
"Just thank you," he said, when asked what he'd like to say to the townspeople. "The only reason the doors are open is because of the support of the community."