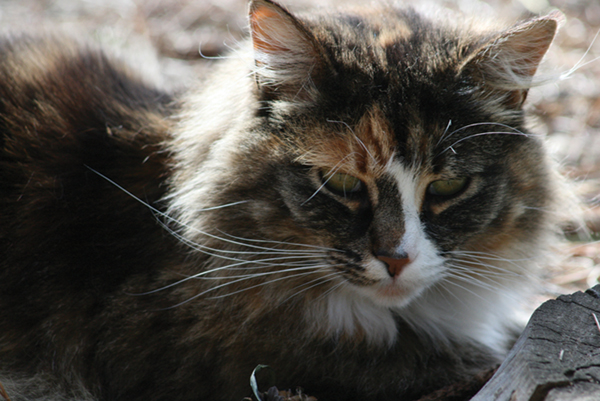 By: Korie Marshall
Tensions continue to run high between neighbours over cats in Valemount.
Early this summer the Robson Valley Spay and Neuter Society reached out to the community, asking residents to speak out about violence against pets. But one resident is still frustrated with cats in his yard and has taken his concerns to Village Council.
During public comment at a Council meeting in July, Valemount resident Brian Bobke asked what the bylaws were for cat ownership, and whether you need a tag.
"If I have a dog, I have to licence each year, so if it does get caught and winds up in the compound, the Village knows who to send the fine to, correct?" Bobke asked. "With the past issues in the last four to six months, and again last night – if I do catch a cat in a live trap, who do I take it to?"
The Village has live traps for cats but only the bylaw officer is authorized to use them. And there is currently very little appropriate space for the Village to house cats, though they are working on a new space for dogs. The Village tried to establish a partnership with the Robson Valley Spay and Neuter Society a couple years ago when there was no bylaw officer, but the Society, which is volunteer-based and run by two or three people, could not make the funding and time commitment work. Only recently has the Village started issuing tags for cats, though dogs have required licensing since before the 2011 animal bylaw was enacted. Last updated in 2013, the bylaws set out a number of regulations, fees and charges for dogs, but about cats, only say the Village may keep a registry.
"Cats are cute as kittens, but once they become adult cats there is no real ownership," says Bobke. "No one seems to own any of the cats in our neighbourhood until one goes missing."
"Some of you are aware that I inherited my parents' house. They worked for 40 years, and that is their legacy, their backyard and their flowerbeds. And I am beside myself and give up asking the neighbours to keep their cats from shitting in my backyard, using it as a litter box. Excuse the language, but I am tired of it," said Bobke.
But the tension seems to go beyond the cats.
"Last night when we got home the neighbours figured I had poison set out and they took it upon themselves…" Bobke trailed off, sounding exasperated. "The poison turned out to be ant bait – borax with honey mixed to keep the ants at bay. But they were quite adamant that it was poison for the cats."
"My next step is to take it to court like happened 18 years ago and get a local trapper to come in and trap with conibears, because it has got to stop," said Bobke. "What does a person do?"
A spokesperson for the Ministry of Forests, Lands and Natural Resource Operations says a trapping license is required to set a trap for fur bearing animals, even in your own yard, but under no circumstances can a trap be set for domestic animals.
At the Council meeting, Mayor Jeannette Townsend asked Bobke to call her the next day so they can see what can be done. Bobke says he wants cats identified like dogs are, with a tag, so that if he catches one in his yard, he knows who it belongs to, and he wants the owners charged.
"We were gone for four days and there are three little mounds of shit in our yard," says Bobke. "Everyone is chasing their tails until the Village comes up with a bylaw or something."
Bobke says an officer from the SPCA visited him on Aug. 20th "I guess I am still on the hit list, they want me charged," Bobke told the Goat. He says at one point there were at least five cats regularly in his yard, and some of his neighbours were cooperative at first, but got angry after he set the conibear trap.
He says the trap has gone missing, so he can't prove it, but, "I could stick my hand in it without even doing any harm to myself. More than anything it was just a hold. So when I did catch the cat, it didn't do any harm to it." Bobke says. "It did the 50-yard dash a couple of seconds after it got out of the trap. Again, my fault for letting it go where I did, but tried to take action, doing it myself; that was the wrong route."
"It's not that I hate cats, I grew up with them," said Bobke. "But as a responsible pet owner, you have to look after your pet. I wouldn't want my animal using your yard for a toilet."
"I'm trying to look after it (my parent's home) the best I can," says Bobke, though he says he is planning to sell and build on another property he bought nearby.
Chris Dolbec of the Robson Valley Spay and Neuter Society encourages anyone having problems with a neighbourhood or stray cat to call them. Their mandate is to promote responsible pet ownership and to provide education and financial assistance to control cat populations in the Robson Valley through spay and neutering. But a big problem right now is there are just too many cats to deal with. Dolbec says the society currently has around 20 cats and kittens they are looking to re-home, and are expecting more kittens soon.
Another problem the Society sees is that the Village just doesn't have the resources either.
"How will the village enforce a cat bylaw when they can't even do it with dogs? The bylaw officer is only issued 10 hours a week. Add to this the lack of proper facilities," said Dolbec.
"The safest place for your cat is indoors, but we know that is not always realistic," says Dolbec.