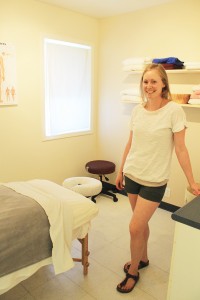 By: Korie Marshall
Kathryn Smith has a passion for understanding the proper function and alignment of muscles, tendons and bones. She's been a certified yoga instructor for six years, and now she has opened her own business in Valemount, Align Massage Therapy.
Smith grew up in McBride and Dunster, and says she really didn't know anyone in Valemount until she met her future husband, Jared, when she was about 19. She lived in the lower mainland for a while including Victoria and in Vernon for two years while taking an intensive course for massage therapy training at the Okanagan Valley College of Massage Therapy.
The 2500-hour course used to take three years, but hers was the first class condensed to two. Smith recently passed her provincial board exam to be certified as a Registered Massage Therapist (RMT) and came back to the valley to open her own business on Main St in Valemount, next to the dental office. The RMT designation means she is certified in BC and a few other provinces that regulate the profession, and that her services are covered under some medical plans.