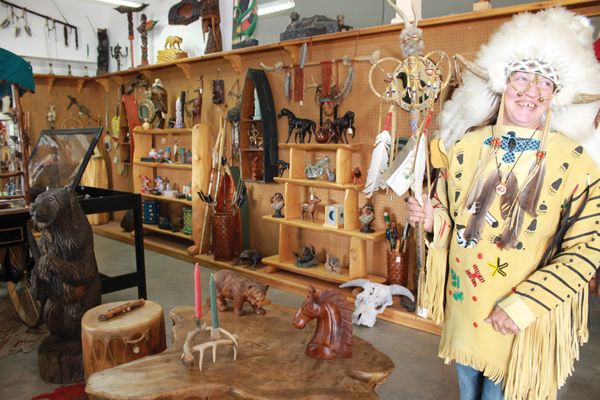 By: Korie Marshall
Treasures of native arts and crafts from around the world await you at a new business at the Trading Post on Main, and you might even get an extra little gift.
Michelle Aatia started with a passion for native art, and has grown her collection during her world travels. She can tell you a bit of the history of every piece in her store, and about how and why she picked it up.
Recently moving from Jasper, Aatia has just opened a new business at the Trading Post, called Curious Goods and Crafts – Native Art and International Imports. You can find jewelry, rugs, wool sweaters, incense, decorative and traditional items and hand-made musical instruments of all kinds, like raw hide drums made from the hollowed stem of a tree.
Aatia says she always likes to be holding her Mohawk prayer stick in photographs, and she's always happy to model some of the headdresses and native American clothing she's collected. And for supporting her business, you just may get a small piece of wearable music – a small clay flute that you can wear as a pendant. She'll even show you how to play it, and if you are interested in a deeper sound, she's got some bigger ones too.