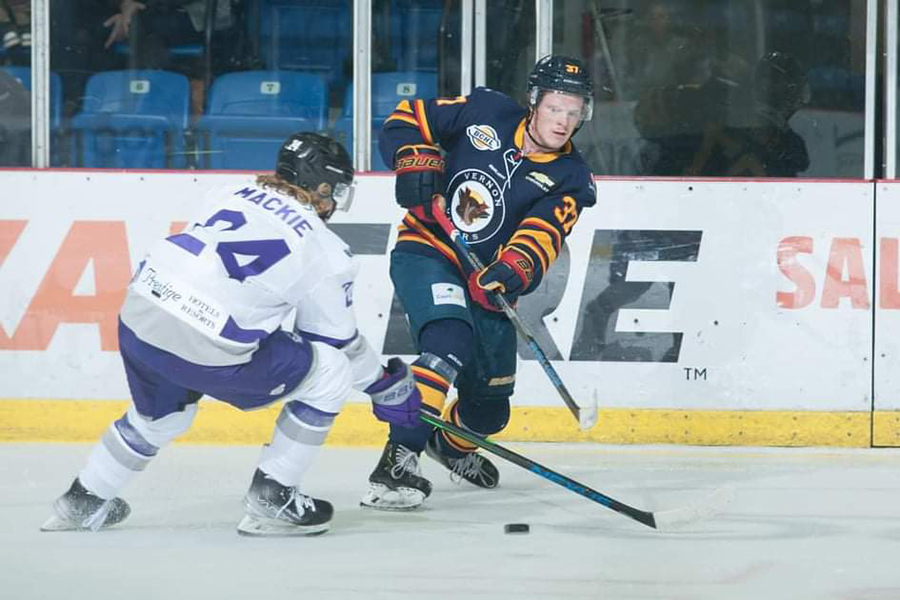 By Michael Piasetzki
Anyone who has played hockey at an elite level will tell you the road to success is long and windy, often filled with ups and downs, twists and turns along the way.
Nobody knows this better than Valemount native Braden Smith, who at the young age of 18 has seen his developing hockey career take him to several British Columbia towns and cities over the past three years.
Smith, a 6-foot, 180-pound defenceman currently playing for the Vernon Vipers of the British Columbia Hockey League, left Valemount to pursue his hockey dreams at the age of 15. He played three seasons in Kamloops with the Thompson Blazers organization of the British Columbia Elite Hockey League. From there he was drafted by the Victoria Royals of the Western Hockey League where he played 50 games last season during the pandemic.
Before, he also spent a couple of months with the Kamloops Storm of the Kootenay International Hockey league.
"It was a great experience playing those games in the Western Hockey League," Smith said during a recent telephone conversation with the Goat from Victoria, where he was in the middle of a three-game road trip through Vancouver Island with the Vipers. The team picked up two out of a possible six points on the tour before losing 4-3 in overtime to Salmon Arm last Wednesday. Last weekend saw them drop a pair of contests to Wenatchee, including a 3-2 defeat in overtime last Friday and 4-1 loss in regulation last Saturday.
"I got concussed and missed some time but my time with the Royals taught me so much. Basically I discovered it's a tough, very physical league. You're playing against men," added Smith.
Unfortunately, the Royals cut Smith after training camp this year, a disappointing turn of events for the rearguard. However, he tried to make the best of it by speaking to his agent who found him a spot in the BCHL with Vernon.
"I'm really enjoying it here," said Smith. "The playing style is different from the Western Hockey League. It's more of a skill game here. But if I have to protect a fellow teammate out there on the ice I will."
Despite feeling comfortable in Vernon with the Vipers, Smith makes no bones about the fact he'd rather be in Victoria playing with the Royals—a natural aspiration since the Western Hockey League is the primary league in which National Hockey League scouts look for potential draft picks.
"The nice thing about playing in the BCHL with the Vipers though, is that it's allowed me to have more time with the puck and helped my decision making," said Smith, who has played a few games as forward this season. "Hopefully that will help me when I get back to the WHL."
Not getting too fancy with the puck is something Vipers assistant coach Eric Morissette pointed towards as being a key component of Smith's game and integral if he hopes to progress to higher levels.
"Braden is a great guy and a good teammate," said Morisette. "He's a solid individual who has fit right in this year with the Vipers. Just the fact he was willing to move up and play forward to help the team showed that. But if there's one thing about his game that he needs to focus on it's not getting too fancy with the puck when he's back on defence. He needs to play a simple game and he'll be fine. Just move the puck out of the defensive zone. That'll be his key to getting to the next level."
Morissette also pointed out that one of the bonuses of playing in the BCHL is the large amount of ice time players might get compared to the Western Hockey League.
Smith, who said he feels his strength lies in his skating and physical play, might be a well-seasoned player who has travelled the roads of British Columbia, but he said he still keeps his feet grounded. He still stays in touch with his old friends in Valemount and looks forward to returning home whenever he can.
"I really enjoyed growing up in Valemount," he said. "I grew up dirt biking, fishing and camping. I still enjoy doing the outdoor things, although I don't get to return home that often anymore. Being out enjoying the mountains and the peace and quiet of the area. That's what I miss the most."