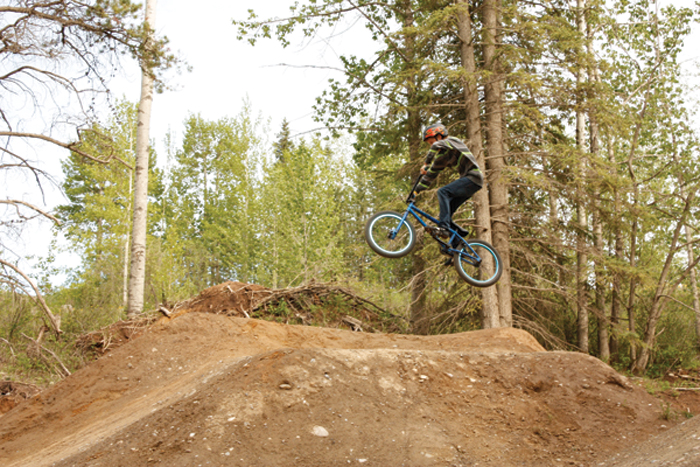 By: Frank Green
McBride is moving forward with a plan to build about 80km of mountain biking trails on McBride Peak and Teare Mountain.
McBride Village Council supported a grant application in the works from the Robson Valley Mountain Biking Association, who are applying for nearly $300,000 to construct just the first 20 km of the project. They plan to apply for more grants in the future to pay for the rest.
Construction would start in the summer of 2016, and be finished by the end of the season – if they get the money. The Union of British Columbia Municipalities gives out the grants, and a spokesperson there said 15-20% of the applicants get one, and not all of the grantees get all the money they applied for. The grantees will be announced late this year.
"This is all just a pebble in the well," cautioned Ingrid Stengler, president of the Robson Valley Mountain Biking Association. "It's important to remember that we don't have the grant yet."
Proponents of the mountain biking project say the trails would be an amenity for locals and a boon for tourism, which relies heavily on wintertime Albertan snowmobilers.
Mountain bikers, who skew young, male, and wealthy, come in the summer. And many of them cross the border into BC from the huge and expanding market in the US. One of every four tourists who stay overnight and go mountain biking say the biking was the main reason for their trip, according to Statistics Canada. The province is marketing to outdoorsy tourists, calling itself "super natural," and the proposed trails would fit tidily into that image making.
"I'm a huge supporter," said Village Councillor Sharon Reichert. "I think it's a great idea. I think it'll bring in lots of tourists," she added. "We have to offer something other than winter activities."
Maintenance costs for the trails would be minimal – the vast majority of it could be handled by local volunteers, judging by other mountain biking centers like Burns Lake, Stengler said.
"You're going to have the odd tree fall down. You're going to have to check your bridges," she said. "We're designing them to be very cheap to maintain."
Whether or not the grant proposal works out, members of the Robson Valley Mountain Biking Association are taking trails into their own hands. They'll start hosting trail building nights later this month. All are welcome.
"Come on out," Stengler said. "See what it's about."