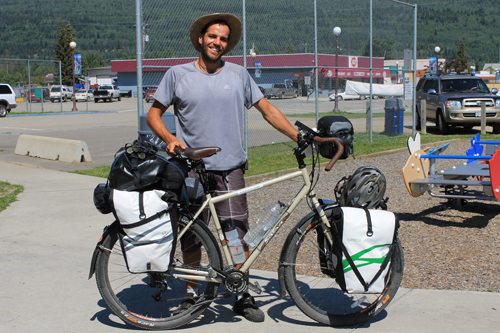 Fridays in McBride are always an adventure as folks from Dunster to Dome Creek swell the numbers in town while doing their shopping. Recently it was busier still because of the impending closing of our local IGA and the opportunity to fill the storage cupboards for winter with the 50% off merchandise. There was many a loaded truck leaving the village as a consequence.
Then there is the Farmers' Market with fresh produce, baking, honey and beeswax candles, crafts and perhaps most memorable of all the friendly banter and visiting opportunity that goes with it. The smell of fresh apple pies, Mennonite donuts and garlic mingle as you walk around and share a brief interchange with each of the many vendors. But there is more…
Among the many people that I renewed acquaintances with there were also some adventurers from far flung parts of the globe – a couple from Germany, a pair of school teacher cyclists from New Zealand making the Highway 16 trek across Canada, and specifically, one well tanned bicycle rider from Brazil, only one month into what will be a two-year trek back and forth across Canada and the United States. At his invitation I found myself sitting down and discussing his route, his background, and the color and interaction going on around us.
He was Andre Fatini, a 28 year old and native of Bao Paulo, Brazil. His journey of reflection really started two years ago when he began saving for the improbable trip that will take him on a lengthy route starting from Alaska. Over the last month he journeyed southwards to McBride, and he plans to go through Jasper and Banff before meeting with a friend in California. Then it will be on to the Grand Canyon and Salt Lake City, then north through Idaho and Montana. In the end the plans are to cover the two countries from coast to coast before returning to his teaching career in Brazil.
Andre is also pretty fit after a month of regular 100-120km days and is certainly travelling light on his Alaskan-purchased bicycle. He showed me maps for his short term routing through Jasper, Athabasca Falls, the Columbia Icefields, Peyto Lake and down to Lake Louise. With two side saddles and a couple of other small containers of treasures on his handlebars and behind his seat, it was apparent his travelling equipment was well thought-out and complete.
As we continued our dialogue he told me about his siblings and mother back home, his job as a teacher of physics in his local high school, how he had sold many of his possessions in order to save the money necessary to make this trip (including his vehicle). He spoke about an earlier shorter trip through Europe in 2011 and the possibility that this might be his last major trip for a while – his mother was ready for him 'to marry, settle down and raise some grandchildren for her'. He spoke about the six years spent earning his degree, the last five of which while he was already teaching. Whilst discussing many questions about the route and potential highlights and stopping places, he included in the converstaion several of the young Mennonite girls who were busy selling their garden and baking wares at an adjacent booth. Andre was intrigued by their attire and shy reluctance to have their pictures taken.
He extracted a promise from me to forward him a copy of "The Goat" so that he could enjoy the memories all over again. This is to be sent c/o his special friend in Sunnyvale, California. There was a gleam in his eye as he explained Julianna was from his home town and was herself working in the United States before settling down. He accepted the good natured joshing when we suggested perhaps she might have something to do with his mother's desires for grandchildren – and he did not deny it.
It was only when I got home with my produce and looked at the clock that I realized that I had spent an hour involved in this conversation and had enjoyed every minute of it. Such are the joys and the memories of the Farmers' Market in McBride.
By: Chris Parker