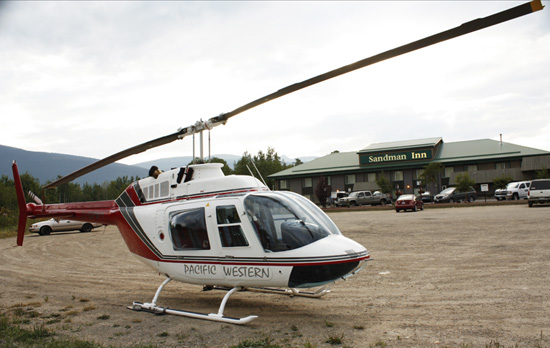 A helicopter landing at the McBride Sandman Inn last week is connected with salmon counting.
Fisheries and Oceans Canada Fraser Stock Assessment staff were operating in the McBride area on Aug. 14-15th to conduct Chinook salmon assessment in five tributaries to the Fraser River near McBride (Torphy, Morkill, Walker, Goat and Holmes rivers).
A spokesperson from Fisheries and Oceans Canada says due to the remoteness of these sites and difficulty of their access, helicopter flights are the most efficient and economical mode to count the fish. As to why the helicopter landed at the Sandman instead of the airport, the helicopter company Pacific Western Helicopters Ltd out of Prince George was not able to get that information to us by deadline. Fisheries and Oceans Canada also did not provide a comment. Sandman manager Murielle Demarcke says the helicopter landing in their parking lot last week was "unexpected" but that the researchers have used the space before. She says they expect the team to return again this week.
Photo: Laura Keil