By Jean Ann Berkenpas
---

Despite the changing situation around COVID-19 and many businesses closing their doors, farmers' markets in Valemount, Dunster and McBride will continue to be open for the 2020 summer. Farmers' markets are considered an essential service, and shopping in the outdoors is likely the lowest risk setting possible. New requirements are also in place to provide for social distancing and increased sanitation.

Farmers' markets provide a venue for local farms, businesses, and individuals to sell homegrown and homemade products. Items must be made, baked or grown locally, and typically include a variety of fresh garden produce, plants, meat, baking, beverages, and canned goods. Homemade arts and crafts are also permitted to be sold at farmers markets, although foodstuffs are the dominant sale item.
The Valemount farmers' market was the first to open on June 18th, soon to be followed by the McBride and Dunster markets in early July. The first market had a good turnout with over ten vendors from Valemount, Dunster and McBride areas. A steady stream of shoppers was there, looking for fresh local food and plants for their gardens.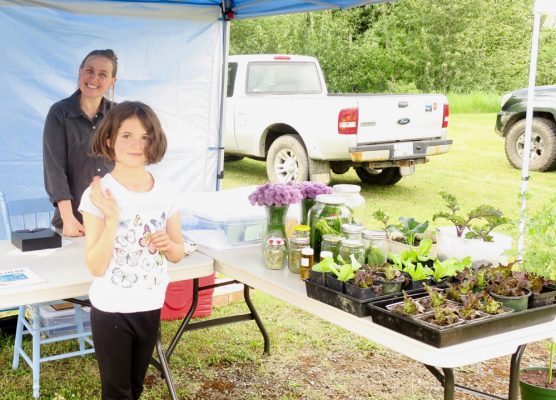 The new setup has vendors spaced at least 6 feet apart. There is a designated entry and exit point with a hand sanitation station at the entrance. Shoppers are required to line up and enter the market one household at a time, where they can then work their way along the one way shopping route. Other changes this season are that no dogs are allowed, nor are reusable cloth bags. Food cannot be consumed at the market either, so the barbeque sales and picnic tables are unavailable for now. Vendors are required to have products pre-packaged, or a physical barrier in place between customers and food on display. The large open space can accommodate plenty of sellers and allows for drop-ins and additions throughout the season.
The McBride farmers market plans to open July 3, at its usual location in the Steve Kolida Village Park pavilion. The market runs from 11am – 2pm every Friday until Labor Day weekend.
"Due to COVID we won't be able to accept drop-in vendors, as our site is small," said Jackie Edwards, the market manager. "If anyone wishes to sell, they will need to prebook with me to ensure we don't have too many vendors. The park is limited to 50 persons, as per present law, and the pavilion will be limited to 22 at any given time."
The Dunster farmers market will be starting up at the Dunster Community Hall on Saturday July 11th. It runs every Saturday from 11am – 1pm until the end of September. Changes this year include the request for vendors and buyers to maintain social distancing. Vendors must set up at least two metres apart. The regular burgers and barbecue will not be available this year, but coffee will be available and provided by servers.
Dunster
Location: Dunster Community Hall
Dates and Time: Saturdays from July 11 – end of September, from 11am-1pm
Vendors: The Dunster farmers market does not have a regular list of vendors, but there are typically a handful of farmers, gardeners and bakers. There is no fee to sell at the market, and ample space for drop-in vendors.
Market Manager: Pete Amyoony, 250 968 4334, [email protected], or Loretta Simpson at 250 968 4453
McBride
Location: Pavilion at Steve Kolida Village Park
Dates and Time: Fridays from July 3 – September 11, from 11am – 2pm
Vendors: Jackie Edwards: home canning and veggies; Leigh Jackson: veggies; Barb Baer: veggies; Rose Birky: home baked goodies; Yann Assamat/Roots and Thyme: sourdough breads; Sarah Simonton, crafts; Dorothy Simpson: plants. Not everyone will be there every week but updates will be posted on Facebook.
Market Manager: Jackie Edwards at 250 569 7101 or [email protected]
Valemount
Location: Field beside Valemount Visitor Information Centre and Village Office
Dates and Time: Thursdays from June 18 – September 27, from 4pm – 7pm
Vendors: Regular vendors include Balsam Ranch: vegetables and meat; Crooked Creek Farm: vegetables, canned goods and plants; Maria Lerch: vegetables, baking, canned goods, plants; Grace's Wild Things: canned goods and other foodstuffs made from local wild plants; Robson Valley Gourmet Mushrooms: specialty mushrooms; Vale Coffee Roasters: locally roasted coffee beans; Deb's Meat Pies: frozen pre-made meat pies; as well as many other vendors are often present on a drop-in basis.
Market Manager: Christine Peltier, 250 566 3766, [email protected]