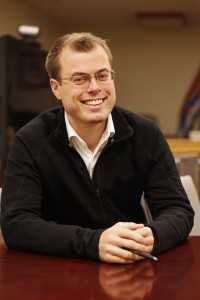 Braden Hutchins is Valemount's new deputy corporate officer.
Originally from Ladysmith on Vancouver Island, Hutchins moved to Valemount from his last job in England, where he worked as a consultant for an environmental agency. He says he wanted to return to his home province of BC and to begin a career in local government. Working for a small town appealed to him because he knew a wide variety of projects would come across his desk, offering him new experiences.
"If you're willing to relocate to a rural community, it presents a lot more options, career-wise," he said in an interview last Friday.
He says family members working in local government have also influenced his career path.
"They've always said it's a great place to contribute. So I've always had that push."
Hutchins holds a Master of Arts in Public Administration from Carleton University in Ottawa, as well as a Bachelor of Arts in Geography. While he has never been employed in local government, he says his experience volunteering for local governments during university gave him a taste of what's involved.
For term projects he says he would approach local governments and ask them what work they needed done. He did a water meter and water conservation study for his hometown of Ladysmith. He also partnered with three local governments in Ontario to lead the youth consultation and engagement for the regional sustainable development strategy. He then interviewed municipal energy managers across Ontario for best practices for managing community energy use.
When he graduated from Carleton, he was offered a job with the federal government where he was in charge of developing environmental sustainability performance indicators for the first government-wide sustainability strategy of its kind. He led consultations with all departments and agencies to get buy-in for the strategy.
Following his federal government job, he moved to the UK. There he was primarily a consultant for an environment agency, where he did detailed economic modelling to determine how best to invest in flood defenses across the country.
That was the last job he had before he began the job search again.
He says economic development, environmental and sustainability issues, and social issues are three main areas he'll be focussed on through his work on local projects. On the administrative side of government, however, he says it's not staff's role to drive the issues.
"We listen to the community as well and try to provide rational, objective recommendations, but it's ultimately council that drives the issues."
The deputy corporate officer (DCO) position has been vacant since former DCO Anne Yanciw was promoted to chief administrative officer (CAO). Yanciw became the acting CAO for several months after the June departure of Tom Dall, before she officially filled the role.
Valemount Mayor Andru McCracken says hiring Braden to fill Anne Yanciw's former position wasn't just a matter of "filling a seat."
"We've got the brightest and the best who is very qualified, but he's at a time in his life where he needs experience."
"We are so lucky to get somebody who's got the brains and the brawn and experience for private industry, but for whatever reason, he's got a fatal attraction to municipal politics."
McCracken says there is lots of work when it comes to proposed local projects like Valemount Glacier Destinations and Borealis GeoPower's geothermal project.
"We're positioning the village so that when the time comes, we can be a player. We have a lot of projects underway and they take a lot of time."
Village residents will have the opportunity to meet Hutchins at the Community Conversation town hall meeting Nov. 29th 7-9 at the Valemount Visitor Information Centre, as well as at regular council meetings held every second and fourth Tuesday of each month at 7pm in the Council Chambers.
READ THIS STORY AND MORE IN THE NOV 28TH PAPER COPY OF THE GOAT! AVAILABLE FOR JUST $1.50 AT NEWSSTANDS IN THE ROBSON VALLEY