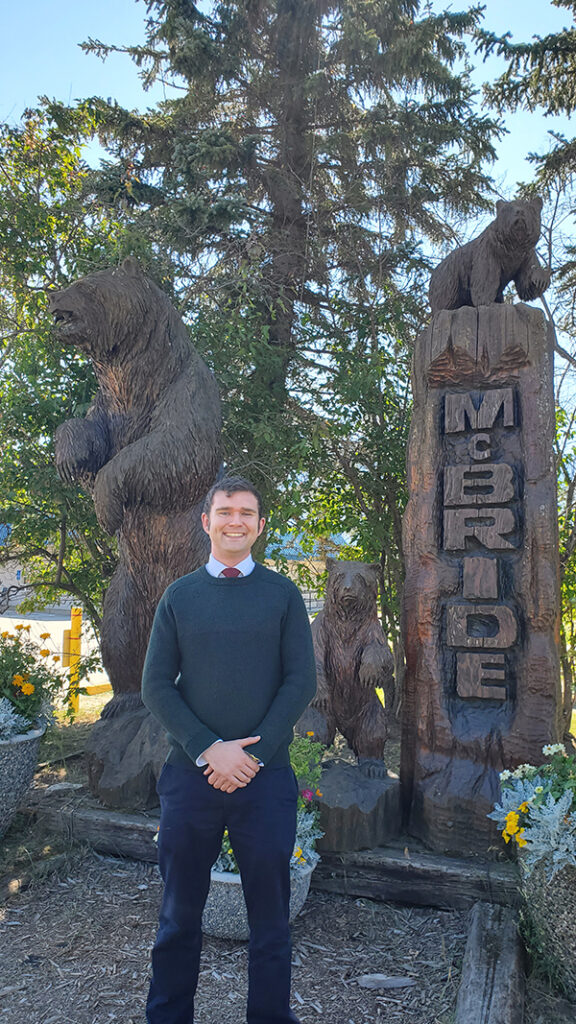 By Andrea Arnold
Connor Mork has come to his role as Deputy Corporate Officer and Deputy Chief Administrative Officer for the Village of McBride with an extensive variety of education and experience. Most recently he held a similar role in the community of Port McNeill on Vancouver Island. 
Mork was contacted through the Human Resources Consultant for the Village of McBride, then went through a process to confirm he was a right fit for the Village.
"His experience (especially the fact he was a DCO else well) and general understanding of small town governments set him apart from a few other individuals we considered in our recruitment process," said Village CAO Chris Tupy. "This position & location also fit nicely into what he was looking for, and a community he could really be a part of."
The opportunity came at a time when Mork was looking to make a change. He spoke several times with CAO Chris Tupy and CFO Sandy Salt and decided to give it a try. His application was successful and he made the move to McBride in early August and began his new position last week.
"The community is similar to Port McNeill," said Mork. "But also very different at the same time. McBride is very wild west."
Mork grew up in Nanaimo on Vancouver Island, but has lived in and travelled to places all over the world. He has lived in and visited many small communities around the province.
His schooling took him to the University of British Columbia where he studied politics and history. He trained to be a qualified primary care paramedic. He then graduated with a diploma and a Masters of Law from the Inns of Courts School of Law in London and was called to the Bar of England and Wales.
Currently, Mork is working on a Diploma in Local Government Administration at Capilano University.
His new position with the Village has him writing agendas and minutes and acting on Council resolutions. He will be working on updating bylaws and policies, drafting contracts, reviewing lease agreements, corporate affairs, policy updates, communications, HR, procedure refinement, website, and IT management. He will also be handling general Village administration when the CAO and CFO are unavailable.
"As I get started, the biggest challenge I see is getting the bylaws up to date," said Mork.
As he is settling into the community he has been checking out the local eateries, and so far the only negative thing he has to report is that the pub closes too early. He has been exploring the area on his recently purchased motorbike, and will be looking for hiking and possibly kayaking opportunities. He is even looking forward to a new local winter experience.
"I am keen to try sledding," he said. "I've never done that before."
Mork is looking forward to working with a new crew of people and working with them to help better the community of McBride.