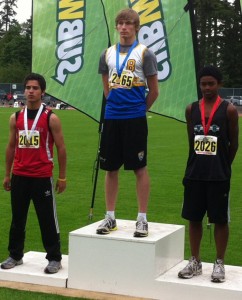 Valemount's Omar Medina has come home with a bronze medal in long jump from the BC High School Track and Field Championships in Burnaby June 1st and 2nd.
He was one of two medalists from his zone.
The Gr. 8 student at Valemount Secondary also topped everyone else in his grade. The only boys who beat him are in Gr. 9.
Medina says he lost his focus when it came to the 100m and 200m races, with times that were slower than his results at Zones last month.
There were about 1,000 people at the track, he says, which made it nerve-wracking.
"It was insanely packed."
His dad was there, but not his coaches, and as one of the youngest participants on the track, he felt intimidated by the older boys.
"My dad gave me a speech on how to just forget about it," he said.
"I was texting my coach asking him for warm-ups," he says. "He told me to snap out of it too."
He came in 14th place in the 100m and 200m, with times slightly slower than at zones, but beat out all other boys in his grade.
"These are the competitions I hope to win next year," he says. "I'll be taller, stronger."
What he hadn't expected was to do so well in long-jump. He says maybe it was because he was frustrated by his first two races that he leapt so far – 5m and 82 cm. That's 42 cm more than he jumped at Zones in Prince George, and just 6 cm behind the 1st and 2nd place results.
"I definitely found a new foundation," he says.
After a brief visit at home, Medina returned to Prince George to resume training with the Prince George Track and Field Club.
This weekend he will compete in the Spruce Capital meet in Prince George. The meet is for private track and field clubs and will determine who from the zone qualifies for the BC Summer Games. The top two athletes for each event will qualify.
He thinks he will do more training for jumping than sprinting now and his coaches may begin intensifying his training, which will likely continue through the summer.
While spending quite a bit of time away from school, his teachers have given him assignments and homework. He says he is very appreciative of all his sponsors and the school for cooperating with his training schedule.
He expects the competition this weekend to be stiffer, but it's not just wins he's after – it's results.
"There will be more competition this weekend – new limits to reach."