By: ANDREA ARNOLD
The Cinderella-like story that's followed the McBride Secondary School Sr. Boys Basketball team has been full of surprises, plot twists and a whole community of fairy godmothers.
The team had its first surprise on their way to the qualifying Zones tournament in Dawson Creek. They were already most of the way there when word reached them that junior player Seth Hulka would have to sit the weekend out due to an issue with eligibility. "I still had fun," Hulka said. "I cheered for the team, and learned a lot from watching the games." The team rallied, and surprised some of their opponents, finishing the weekend in third place, which qualified them for provincials in Langley this week.
One of the team captains, Noah Keim, is in Grade 12 and is playing in his final year as a Mustang. He didn't want the season to end in Dawson Creek and was really happy with their third place finish. "I am excited," he said. "Thrilled, and filled with wonder. We all worked really hard." He would love to see the team come together like they have shown they can, and come home from provincials with a ranking in the top five.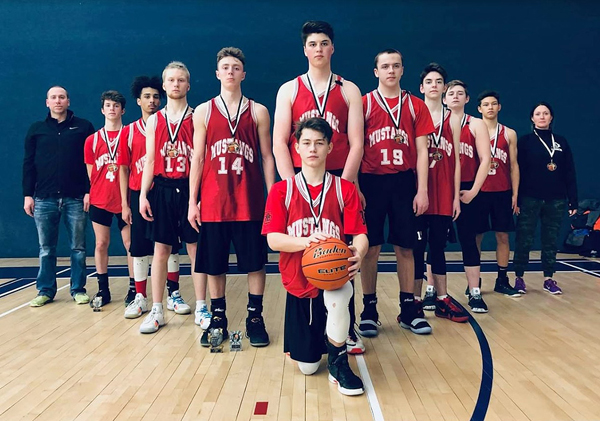 Head coach Stan Keim wanted to see Hulka back on the roster for provincials, so he spent many hours talking to different people in the BC basketball world during the days immediately following their return to McBride. It was through these conversations that Keim was given a lead. BC School Sports was contacted with the information that, while it isn't a set rule, students who finish Grade 9 at Robson Valley Junior Academy often transition to the public system for Grade 10. Presented with this information, BC School Sports has reinstated Hulka. "I was very excited," Hulka said. "I think we can do pretty well down there."
The team has worked hard in the last week to raise the funds needed to make the trip to Langley possible. The estimated need was approximately $12,000, and, thanks to the generosity of a whole community of fairy godmothers, they have surpassed that goal. People and businesses donated cash as well as 53 items for the team to use for a silent auction/dinner fundraiser held Sunday night. Each of the boys also baked and decorated a cake that was auctioned off. Each cake brought a fresh bidding war and laughs as the boys tried to outdo each other. In total, the cakes brought in $955, with one cake going for a bid of $165.
The week-long fundraising exceeded expectations. "We are blown away and overwhelmed by the support," said Coach Jody Keim. "It has been confirmation that we are doing a good thing for the kids when the community backs us 110%." While this trip is going to use a majority of the funds raised, any surplus will be held in the basketball fund at the school to be use during next season.
Coach Stan Keim is looking forward to sharing the experience of provincials with the team. "This is an opportunity to experience BC's basketball mecca," he said. He would like to see the team rally like they did at zones, and place somewhere in the middle of the pack. Representing the smallest school on the schedule, it would be great to showcase the team at their best.
The team includes Noah Keim-Gr 12, Ethan Quam-Gr 12, Shaeman Pauls Gr 12, Tavish Swets-Gr 12, Ezra Keim-Gr 11, Tyler Neimi-Gr 11, Clay Cardinal-Gr 11, Jediah Rich Gr 11, Levi Littlechild-Gr 10 and Seth Hulka-Gr 9. The coaches are Stan and Jody Keim.
The team's first game will be Wednesday evening at 6:15pm. All results, schedules and live streaming of games is available here http://www.tinyurl.com/yyr6843x