By Laura Keil
---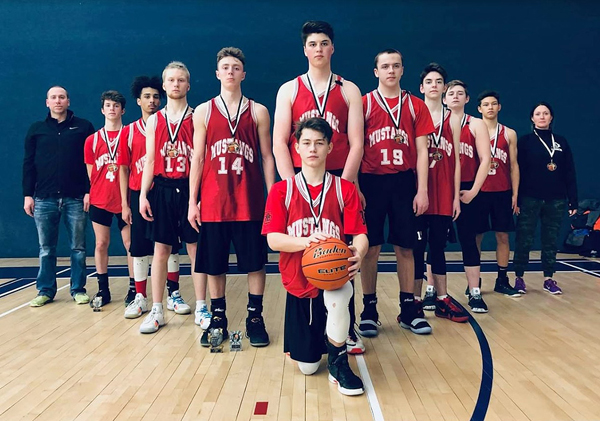 Local basketball teams worked hard at Zones last weekend and were rewarded for their efforts. The McBride Sr. Boys Mustangs placed third and will head to provincials in Langley March 6th.
"I'm the happiest guy in B.C. right now," said Coach Stan Keim. "We came out absolutely flying."
Before the tournament started however, the team was dealt a setback – one of their key players, a junior, was barred from playing.
"We learned all year long that life isn't fair, and we're dealt with different blows at different times."
"It's just a simple game of basketball but what we learn from all this is how to be gentleman and how to deal with life when it throws us different curves."
On Thursday, they played the team ranked 5th (the Mustangs were ranked 4th going in). The game was very strange, Keim says, since every player contributed to the scoreboard.
"I've never had that in the past in a small town. It's usually 2 or 3 that are the all-stars."
Before the game that would decide if they made provincials, Keim and his wife spoke from the heart and told them that, win or lose, they would still love them and it wouldn't change the way people see them.
He said in the last quarter of that game, they did a huddle. Keim appealed to the players' sense of pride.
"This is for all the beating the school and community has taken over the last years; this is for the doubters; this is for all the people who think McBride has no more pride and hope; this is for our town; this is for McBride." Then the boys started adding in things they were playing for.
They won the game by 40 points.
They lost their last game against the team ranked 1st by just 100-92.
Since returning to McBride, Keim has had former high school basketball players offering money towards the team's travel costs.
"These are like 20-year-olds. It's usually older people and companies, but I have kids fresh out of the program saying, 'This is what I can give you.'"
Valemount's Coach Corey Bergen congratulates McBride on their provincial win. The Valemount Boys Timberwolves received Most Sportsmanlike team award at zones. Bergen said one of the refs stopped him between quarters and asked if Valemount played the opposing team quite a bit. Bergen said no, and the ref explained that the way the Valemount boys were talking to the other team made it seem like they knew each other.
"That's how they are all the time, you know, they're always friendly, talking to the other guys on the court."
Bergen said the boys made a lot of progress recently.
"They've really come together in the last little while. I wish we had another three months of basketball."
The Valemount boys placed 7th out of 10 teams, and the team included six senior boys and four juniors (a number of juniors are allowed to participate at Zones).
The Sr. girls Timberwolves played hard and came out sixth out of 10 teams. Emily Kunka got a 2nd team all-star award, one of just five awarded.
Coach Ellen Van der Wilk said they played really well.
"I'm super proud of them and we had lots of fun, which is what it's all about."