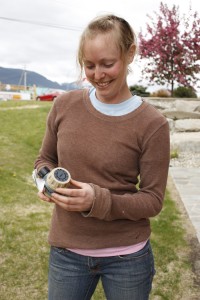 Kathryn Smith wants to help you keep your yard leaner and greener.
She is the Village of Valemount Water Smart Ambassador – a program funded by Columbia Basin Trust to encourage water conservation in the Basin region.
On average, water use more than doubles in the summer due to outdoor irrigation. The Water Smart program aims to reduce water by 20 per cent Basin-wide.
Using water costs everyone money, she says, since the water that comes through the tap must be treated. We pay for the peak times of water use. She says if we can decrease water everyone uses then abundance for new customers and less cost to all tax payers.
"People want their lawn to be green and soft but they don't know how to get it," she says.
Smith will be offering free water use consultations to any resident in the village who wants use water more efficiently. Her assessments will be geared to working with what the person already has.
First, she will do a walk-through of the homeowner's yard to look at their watering/irrigation system, types of plants and health of the soil through a soil sample (to look at the root depth, presence of thatch etc). She will also discuss the homeowners' current watering practices and any issues they are having – brown spots and moss growth to name a few.
Based on soil samples and the water assessment the ambassador will provide recommendations to help homeowners improve their watering practices and reduce their outdoor water use.
She will be giving out free hose timers to residents who use portable sprinklers. For people with an automated sprinkler, she is giving out rain sensors, that shut off sprinklers when they detects the ground is already moist.
Smith says a lot of people don't know how much or how often to use their sprinkler.
"Some people say I don't know I just put it on for two hours and forget about it," she says.
Soaking a lawn can actually make a lawn more high-maintenance by fostering a shallow root system, Smith says. The ideal watering time is 20minutes once a day.
Not many people realize that municipal water restrictions are in place. Households are advised to irrigate their lawns only between 7am and 10am or 7pm and 10pm – which avoids the hottest time of day.
Smith says she won't be telling people to stop watering completely.
"If they're receptive to it, I'll try to show them how to do things in a less intensive way," she says.
She says it's easy to save up to 40 per cent of water, without seeing a negative effect on your landscaping.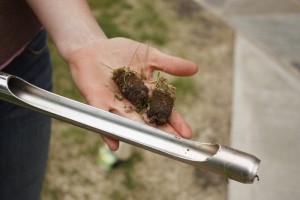 If residents were metered, we'd see a direct reduction in water and increase in cost, she says, but because we're not metered, it's tricky to measure.
Smith has experience with horticulture and in xeriscaping – which means landscaping with plants native to the area that require little maintenance. She is happy to advise residents on which plants may do better with less water in this area.
She will also offer free water assessments for businesses and for the Village Public Works which maintains many public planters, lawns and trees around town.
The appointments are 10-30 minutes and can be made by phoning 566-3304. Appointments will only be available Thursday and Friday.
In addition to a free hose timer, people who get an assessment can also enter to win a low-flow toilet and showerhead if they answer a questionnaire on water use.