By Andru McCracken
---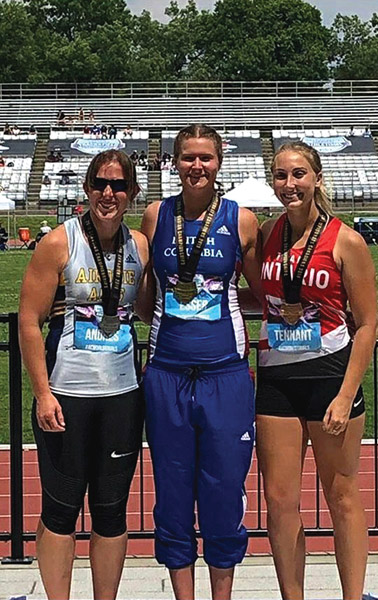 McBride's Agnes Esser has reclaimed the Canadian national title in discus at the Canadian Track & Field Championships held in Montreal, Quebec.
Esser held the title in 2016 and 2017, and placed third in 2018.
Esser graduated university with a degree in physiology and is currently a community support worker for adults with mental disabilities in Victoria.
"It's a hands-on area of work, not just sitting at a desk," she said.
Now that she has more time to focus on throwing, she is keen to make the world championships and the Olympics.
"I'm working and training most of the time," she said. "That's kind of how my life is right now. I go from work to the track and back to work to the gym."
Although she is the Canadian champion it doesn't guarantee her a trip to the World Championships or the Olympics.
In order to make it, she has to throw the standard, 61.2 meters.
In her most recent competition she threw a 58.8 meter.
"In the world championships you have to throw the standard that automatically qualifies you for that heat," she said. Same with the Olympics.
With homework and schooling out of the way and the same coach she had before college, Esser is feeling positive and working hard.
Esser became interested in the sport in highschool when her cousin Joanna Franke went to the University of Hawaii on a scholarship for competing in the hammer throw.
That's when Esser got her hands on a discus, a coach took notice and encouraged her.
When Esser moved to Duncan in Grade 11 things came together leading up to a scholarship at the University of Minnesota.
Discus is a unique sport in that it's the one where the women's world record is higher than the mens.
The world record is 76.85 m and it was thrown by Gabriele Reinsch of the German Democratic Republic in 1988. The men's record is more than 2m less, 74.08 m set in 1986.