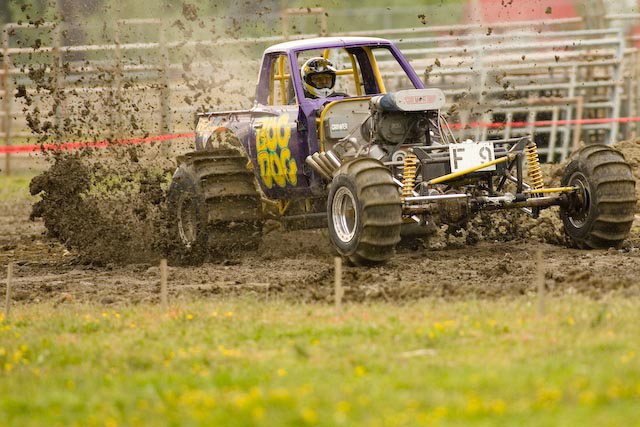 Get ready for mud to fly, Valemount. The village's first mud bog races are here July 31st to Aug. 1st with up to $8,000 in prizes if your vehicle can clamber through the muddy pit.
"It's very deafeaning and very eye-opening for the people who come out," says Dave Biddlecombe, president of the North West Mud Racing Association.
It's a sport his association's members take very seriously, though, and it's not easy to win, he says. He's been blasting his 1800 horsepower, 1957 chevy through many bogs.
He says with the more powerful vehicles like his, it's all just about the power.
"You put your foot down. I wouldn't say you close your eyes, but you hold on."
The only control you have is lifting the gas pedal, he says.
For about a quarter of the pit, there are no tires on the ground, and for a good chunk of it, there are only two.
"If you take your foot off the gas, you're guaranteed to lose."
He says there have been lots of accidents, but no one has even been seriously hurt at the association's races, which have run for two decades.
While members of the mud racing association will be travelling to Valemount, anyone is welcome to race. Any vehicle is welcome, but all are inspected for safety. Extra safety measures apply to vehicles that are not insurable.
Vehicles can run up to 3000 horsepower in the unlimited class, and will zoom to 200 kilometres an hour after 200 feet.
"We basically turn up top 12 inches of soil, roto-till it up, add 8-20 gallons of water, make a pit about a foot deep, 24 feet wide, 200 feet long, and we race from one end of that pit to the other."
He offers a word of caution to people thinking of entering their brand new street-class 4×4. Mud can clog up sensors, and be impossible to clean.
"The truck won't necessarily be the same," he says and laughs.
The show starts on Saturday at 2 pm at the Canoe Mountain Rodeo grounds and lasts about four and a half hours. On Sunday, the race begins at noon and will last about four and a half hours again.
Street class vehicles are welcome, but have to register by 10 a.m. Saturday. They may also offer a quad racing class, if there are enough participants. There will also be beer gardens, and a dance at 7 pm.